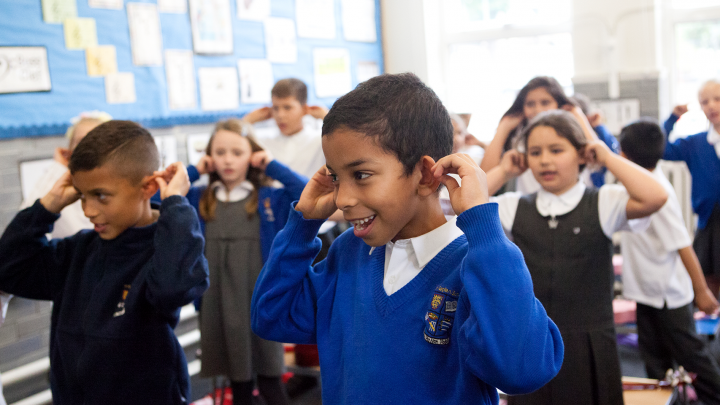 We're refreshing and extending our suite of Sing Up Music resources – to support you to deliver a creative, varied, and engaging programme of high-quality classroom music, right across the primary school.
Sing Up Music units take an integrated and holistic approach to musical learning, and together they represent a complete, comprehensive, and progressive library of resoures that meets the requirements of both the National Curriculum for Music Programmes of Study and the Model Music Curriculum. Sing Up Music will also support you with Ofsted inspections and deep dives.
Sing Up Music is accessible for all those teaching and delivering music in primary settings – for music and non-music specialists alike. Our resources are fun and engaging for pupils, providing access to a broad and diverse range of repertoire, whilst also being designed to be outcomes focussed.
Access to Sing Up Music is included free with your Sing Up school membership.
What's available now?
In summer 2021, we published the first taster set of revamped resources – 7 Singing units and 7 Listening units, or the first half term's work for Reception through to Year 6 for 2021/22, featuring updated activities and songs, and our new Listening units focussing on the development of active listening skills.
Each Sing Up Music unit now comes with a customisable PowerPoint presentation, featuring audio and video clips, and all the teaching information required to support classroom delivery. We have also provided an overview of all new units, mapped against the National Curriculum for Music and Model Music Curriculum – an 'at-a-glance' view of how outcomes can be delivered for every year group.
NEW and coming soon!
From Autumn 2021 onwards, we will keep adding to the new Sing Up Music resources library, including:
Sing Up Music Early Years – a creative and holistic programme of songs and musical activities for nursery-aged children.

Composing units – activities supporting young people to develop skills in improvising and composing, and to find their own creative voices, written by living composers.

Playing units – a multimedia suite of teaching and learning resources for whole-class instrumental learning, beginning with material for Ukuleles.

Musicianship units – a series of units and activities to support the teaching of the elements of music.

Additional Singing Units – song-centred activities for delivering musical learning, exploring songs and vocal music, and improving singing skills and technique.

Additional Listening units – guides to support pupil's understanding of the cultural, social, and historical context of music, helping them to develop active listening skills, to learn the language of music, and providing a broad and diverse experience of music.

Year 6 Transition project – a specific project for Year 6, culminating in the production of an audio work that can be shared with secondary schools.
Let us know what you think
We're always keen to hear what teachers think of our resources – please take a look, use them to plan for next term, try them out if you have the chance, and feel free to get in touch to let us know your thoughts at [email protected]. We're grateful for constructive feedback that will help us to develop and make our resources even better!