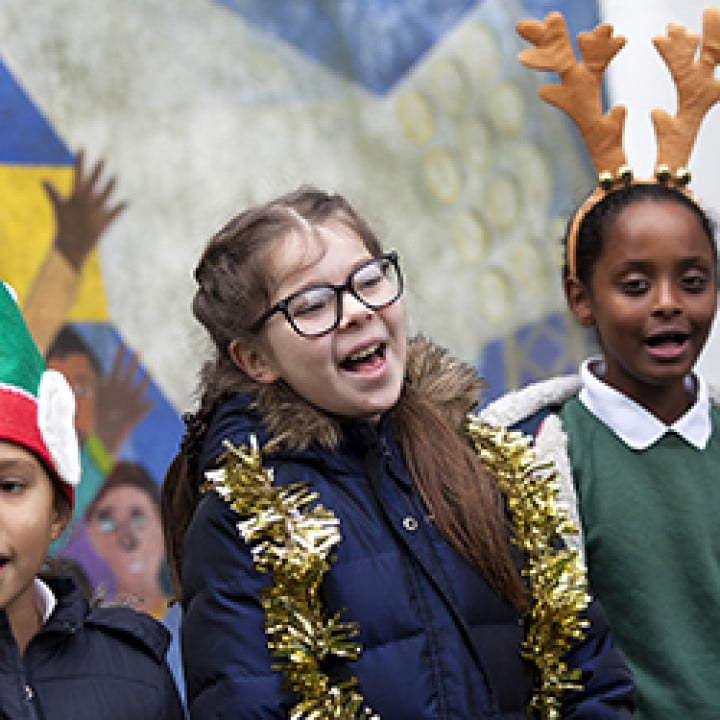 Carol singing is a great tradition of the festive season. It reminds us of winter evenings filled with cheer, music and preferably a mug of something hot and sweet. This particular singing tradition helps us spread good will and foster a sense of community better than most, which is why we'd love to see all schools try it this December.
Because we know that the thought of having yet another end of term activity to plan might be daunting, here are our best tips for singing carols with your pupils this year. Watch it boost their confidence and see singers make new friends as everyone comes together to sing for the wider community.
1. Plan your carolling well in advance
Singing carols is often best kept simple, but if you let the school and parents know ahead of time then you'll have the option of singing at different events and locations. If you get the date in the diary early you can also get the word out through school and church (if appropriate), newspapers, any local papers and even the local radio station.
2. The reason you're singing
The Sing Up staff like to go carolling at our annual winter meet up because it's a fun activity to do all together and because we want to spread some festive cheer. You might also want to sing carols just because everyone enjoys the Christmas songs. However, if your school do have a good cause that they are raising money for, a carol concert or carol singing in the local shopping centre might be a good fund-raising activity.
3. The repertoire doesn't have to be complicated
One of the best things about singing carols is that everyone already knows the songs, or at least the tune of the songs. Have at least the bulk of your chosen music as traditional carols or well-known pop numbers and both your singers and your audience will be happy. Take a look at our carol singing booklet for some inspiration and dip into our Top Ten Christmas songs playlist for some audio to get you in the mood.
4. Recruit more singers
The familiarity of the songs and the buzzing Christmas atmosphere makes for a convincing argument why pupils should try out singing. Why not advertise your choir or invite everyone to take part in singing rehearsals for your carol service?
5. Feeling adventurous? Add a twist
If your singers have already mastered the simple festive repertoire, then you should try something new or different. We have some great examples on our Song Bank – Santa's coming for us from Sia's Christmas album last year, the Latin pop classic Feliz Navidad, and the beautiful Stable under a star from the musical Follow the star are all recent additions available to our Members.
6. Let your singers shine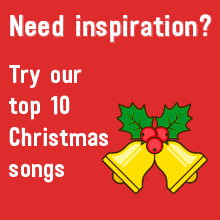 If you're organising a carol concert or service with your whole school, it's a great idea to give every class or year group their own song to perform. Alternatively, you could give each group of singers a verse of a song like "twelve days of Christmas' to perform. For smaller carol groups, consider part singing, soloists or adding simple percussion.
7. Carol singing should be fun
Audience participation or a song with a funny lyric are great options if you're looking for a seriously upbeat carol event. Try cute and funny songs like the cumulative Must be Santa, or amusing Percy the puny poinsettia.
8. Sing with other carollers
Can you organise a parent/carer and child carolling evening? Or perhaps you're friendly with another primary or secondary school in the area? What about any local adult choirs? Carol singing is all about spreading good will in your community, so think big and reach out to other singers in your area. This is also a great opportunity for your pupils to sing with people of all ages.
9. Take your singing all over town
Depending on your time to organise and your ambition, you could share your simple carol songs with lots of people. Something simple like singing to parents at home time during the last week of term is a great start, but Christmas is a great opportunity to visit the local care home, community space or shopping centre. Think about places in your town and upcoming events where you could potentially share some singing. Think about the time of day and where your singers are likely to be seen and heard during the hours that you have available. Remember to check with your council about permissions if singing in a public space.
10. Create an atmosphere with decorations and outfit accessories
Encourage festive headgear and silly Christmas jumpers to get your audience – and your singers – in the mood. If you're singing in an indoor venue where you have the option to decorate, a little bit can go a long way. Your singers might even want to help out with paper snowflakes and handmade wreaths or strings of ivy from their gardens.
11. Wrap up warm and get moving
It might seem obvious, but you'll want to remind your singers that if they're going outside carolling, they'll need their hat, scarf and gloves. Another great way to keep warm when carolling is to add some swaying or dance moves alongside the singing. Take a look at our choreography ideas for A holly jolly Christmas.
12. Combine carol singing with other school events
This could be as simple as singing a couple of carols at your end term assembly or having singers at your winter bake sale stood with a bucket for additional collections. You might also want to sing carols at your Christingle celebration (see our guide).
13. Use singing to showcase your school
If you're planning a carolling event, be sure to invite governors, parents etc. A carol service is a perfect opportunity for you to showcase your singers progress and the positive school community that you're building by singing together.