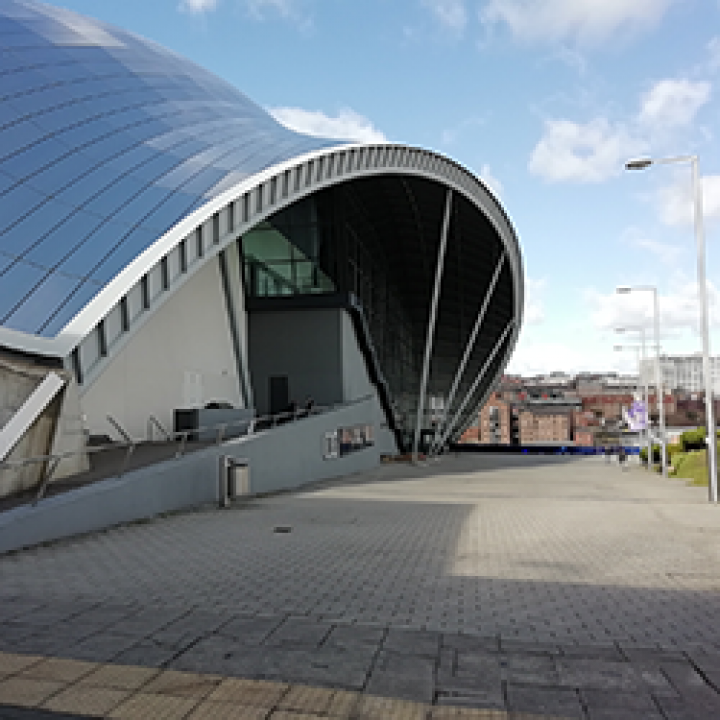 The idea of a singing community is very important to us here at Sing Up, and our team love that Sing Up Day gives our staff an opportunity to get out and witness singing in schools first hand. This year, our Learning Executive Amy Armstrong was fortunate enough to be invited to two Big Sing events organised by hubs that we've been working with. Hundreds of young singers were involved in the events throughout the course of the day. Here's Amy's recount of the day.
Spirit of the North - Gateshead Music Hub Spring Sing
I spent a wonderful morning at Sage Gateshead on Sing Up Day, watching pupils from all over Gateshead and South Tyneside perform in Gateshead Music Hub's annual Spring Sing event, called Spirit of the North. There were approximately 400 pupils involved, watched by an audience of family and friends. Vocal Leader Sharon Durant lead the singing, alongside a number of other vocal leaders from the music services. The children had obviously been working hard to learn the songs, which included this years Sing Up Day song One moment, one people. The children, accompanied by a live band sang really well, with energy and enthusiasm bursting from them throughout. Well done to everyone involved, what a lovely event.
North Tyneside Spring Sing 2019 - Whitley Bay Playhouse
On the evening of Sing Up Day I was invited to watch the North Tyneside Schools Spring Sing, at the Whitley Bay Playhouse on the North East coast. This event was part of a week of similar events, so hundreds of pupils would have had the opportunity to sing during the week. Children from 8 schools performed a selection of songs, which culminated in a joint performance of this year's Sing Up Day song One moment, one people - and it was made extra special by a surprise appearance from the composer of the song, Beccy Owen.
How did you celebrate Sing Up Day?
We would love to hear about how you took part this year. Let us know in the comments below.