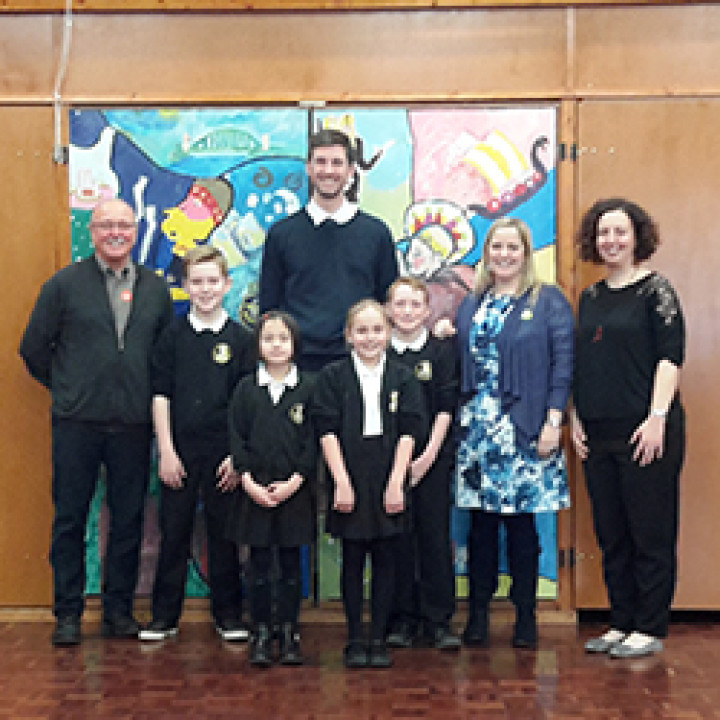 On the most musical day of 2016, Jack and Charlotte (Sing Up's Financial Controller and Learning Executive respectively) had the privilege of visiting Bede Burn Primary School in Jarrow, to take part in their Sing Up Day celebrations.
"Wow, what a day it was! It started with a lively, half hour, whole school warm up in the hall, which included plenty of singing, laughter and movement, during which the pupils demonstrated a real love of music, as well as an impressive knowledge of the Sing Up Song Bank! With well-warmed voices, the classes went on to have a half hour singing carousel, where each class got to visit each classroom to sing a different song with a different teacher. As we walked through the corridors from class to class, singing could be heard from every room, which was wonderful. They even let us join in! The morning culminated in a whole school singing session, with a number of Song Bank songs including Build it high, Big Sing Up mambo, and the Sing Up Day anthem One and a million.
Sadly, we had to leave at lunch time, but later heard that the plan was to surprise parents at home time with a singing flash-mob on the yard and it was a great success!
This school is testimony to the joy that singing brings and it's evident from their commitment and dedication that singing is at the heart of their school day.
Thank you to all the staff and pupils at Bede Burn for letting us be part of their wonderful Sing Up Day. As Jack summarised, "That was one of the most inspiring experiences of my life!"
More photos can be found on the Bede Burn school website
Also as part of Sing Up Day, the pupils and teachers did a FlashMob at parent pick-up. What an inspiring way to end the day!