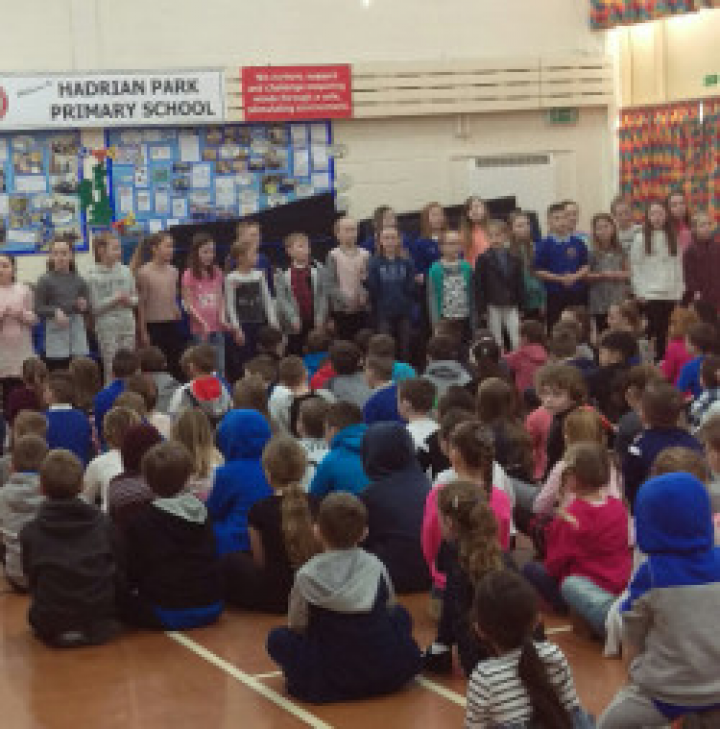 Amy and Deborah from the Sing Up Gateshead team had a very warm welcome at Hadrian Park Primary School in Wallsend, North Tyneside last week!
The school choir took centre stage in a whole school assembly, singing our Sing Up Day song One and a million followed up by Song Bank favourite Touch the sky. It was a fantastic performance!
The 30-strong choir (with children from Years 4, 5 and 6) meet during lunchtimes to rehearse with great dedication. Their wonderful One and a million rendition was particularly impressive given that they had only been learning the song since early January!
On Sing Up Day following their performance, the choir taught the first few verses of One and a million to the rest of the school, and it wasn't long before everyone was singing at the tops of their voices! Their teacher Ms Wilson then left everyone (including teachers) with a challenge for the rest of the day – to sing as much as they could during the day!
So to the lovely sounds of children humming and singing in the corridors on their way to class, Amy and Deborah departed Hadrian Park. What a lovely start to the morning!
Thank you to all at Hadrian Park Primary!