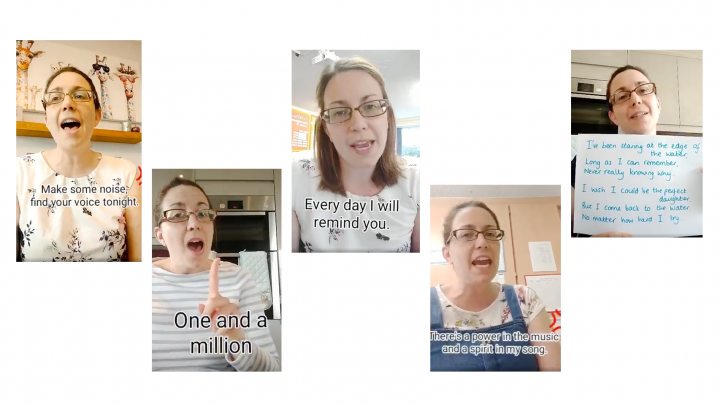 Find out how Rachel Jeffery met the challenges of lockdown by creating a weekly online virtual singing assembly for her school community.
After cancelling the annual Spilsby Music Festival because of lockdown, Rachel Jeffery wanted to ensure that the pupils of Spilsby Primary Academy in Lincolnshire could still experience the joy of singing and celebrate hard work that they had put in rehearsing for the festival. To help, she decided to run her own virtual session, where she sang one of the songs they had been working on from the Sing Up Song Bank: Circle of life. She posted the video on Facebook and encouraged the children to watch and sing along at home.
#Singalongat6
Pupils and parents from the school community and beyond loved her video and so Mrs Jeffery was inspired to begin her #Singalongat6 series, uploading a new singing video every Wednesday at 6pm. These videos used other songs from Sing Up's Song Bank such as There's a power in the music, How far I'll go and Count on me. It was a perfect opportunity to give encouraging messages to pupils while they were away from school and keep them engaged in singing.
These made an incredible impact on the children with parents sending in videos of their children singing along to Mrs Jeffery's videos and telling her how wonderful it was for their children to see a familiar face during lockdown. As well as keeping her pupils having fun and singing, Mrs Jeffery's #Singalongat6 series helped keep the school community connected.
New approaches
In her first few videos, Mrs Jeffery held up cards with the lyrics so that pupils could sing along as they watched. As the series continued, she learned new video editing techniques in order to add song lyrics to her videos, becoming familiar with new technology and developing her teaching skills. She believes that, like her, teachers across the world have now found resources they didn't know existed before and have begun incorporating blended learning approaches, with a new focus on being able to use online educational resources such as Sing Up.
Mrs Jeffery uses Sing Up's resources a lot, saying 'I don't know what I would do without Sing Up.' Since she began leading singing at Spilsby Primary Academy, she has noticed a big increase in engagement in singing across all age groups, particularly noting an increase in the number of boys taking part in singing. Mrs Jeffery said: 'Singing is huge in our school, with a weekly singing assembly and a big choir.'
Her #Singalongat6 series became a stand in for the school's usual weekly assemblies and meant that students were still able to enjoy the school's vibrant musical life during lockdown.
Over to you
Find over 100 songs and resources for free at our Sing Up at Home area and our Song of the Week series now available for Members in our In School area. You can work on your own professional development with The Singing School Handbook and replenish your enthusiasm for singing in school so that you're ready to get back to singing safely.
For those who are not yet back to singing, we have guides and ideas for new ways of using songs, song videos your pupils can join in with anywhere.
Let us know what approaches you are taking to keep pupils engaging with songs and music right now. Please get in touch at [email protected] if you would like to share your own story or if you have any questions for us.