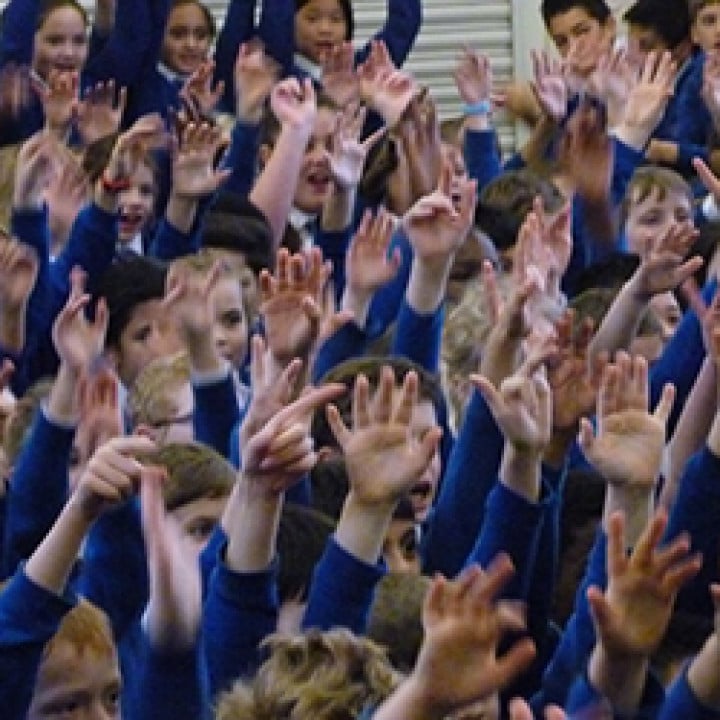 From the younger kiddies to the older teenagers, being engaging is a critical part of all educational interactions and singing is not an exception. Make your singing sessions extra engaging with these top tips!
Start with a silly warm-up!
I always start off every singing session with silly warm-ups. I vary these depending on the age group, but older children love being silly too! I often improvise these but the aim is to warm up the voice and the body whilst also getting the children to focus.
One of the children's favourites is face exercises. We pretend to be different jungle animals that have lost their voices. Big wide mouths and claws for a lion, trumpet lips and monkey arms for a chimp, wiggly tongues and wriggly hands for a snake - the children love making up their own animals too. Call out the animals in different combinations and different speeds. This is great for concentration and focus as well as being fun!
Making sounds like buzzing bees or lip trills like the sound of a motor bike accelerating are great for warming up the vocal chords, particularly if you slide up and down the pitch. Children love making silly noises and it can feel liberating to be told to make them!
Encourage good posture and breathing from the start.
'Soldier, Teenager, Singer' is a great one for this. Call out 'soldier' and the children must stand to attention, shout 'teenager' and they mime a slouching teen, call out 'singer' and they stand straight with balanced head and soft knees.
Make friends with actions!
When I first started teaching singing to children, I wasn't brave enough to teach actions but with the help of the children I now can't teach a song without including a whole range of actions! I always ask the children to improvise when we are singing the song through and then use their ideas - they always come up with interesting actions that are far better than any of mine. They also love being able to contribute, although if you're not careful it can get quite competitive
Put on a 'performance'.
Once the children have learnt the song, always encourage them to perform it to an imaginary audience. Make sure they are standing properly, watching you and listening to each other. When they finish singing ensure that they wait until the song has completely finished before they relax.
Don't stop at just singing.
I love to add instrumental accompaniments to the songs. I ask children to bring in the instruments they play and we work out simple accompaniments. The children also learn some easy chords on the ukulele and strum along. Currently, we're working on a 'Stomp-style' drum routine using plastic bins and boom whackers for a rendition of 'It's the Hard Knock Life' from Annie.
Want more inspiration?
Check out our Be engaging video for some more tips from vocal experts. Don't forget to check out Catherine's Teacher Spotlight for more excellent advice!
What do you think of these tips? Have you got any to add? Let us know in the comments below!