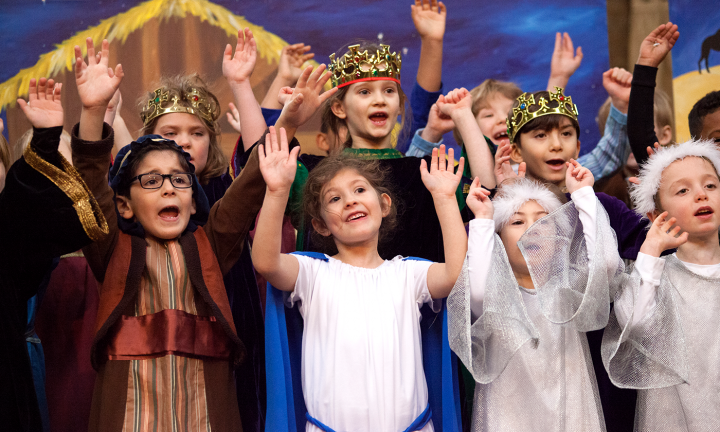 Niki Davies is the bestselling author of Whoops A Daisy Angel and Follow The Star and a professional songwriter with 20 years' practical classroom experience. Tom Kirkham, a practising teacher and former Head of Drama, is the Publishing Director of The School Musicals Company, and one part of the Kirkham/Crossey writing partnership, authors of Pantastic and Paws & Claws. They have been writing nativities for many years and here offer guidance on how to stage an accessible and inclusive nativity musical.
The nativity remains a cornerstone of many primary schools' annual Christmas celebrations. So, what is it about the nativity story – and a nativity production – that explains its enduring appeal? What can schools do to help make them inclusive and a valuable learning experience for all children? And how do we go about writing nativities to ensure we continue to make them accessible, relevant, informative and entertaining?
A learning opportunity
A nativity performance is a holistic learning experience: children read, speak, sing and act the story, not to mention the supporting activities that can be undertaken in the classroom, whether literacy, art or PSHE related. While a traditional nativity is a great way to learn about this key component of the Christian calendar, the process of staging an annual Christmas performance can also offer many enriching experiences – requiring a truly diverse array of talents – whether on stage, behind the scenes or 'front of house'. Take this opportunity to involve as many pupils as possible in the range of roles such as being crew members, or stage hands (if parents allow). Get children involved in advertising (including creating posters, programmes, ticketing), set building and decorating, costumemaking, props, music and staging. Whether it is a traditional nativity or another type of celebration (such as a performance of one of TSMC's many other musicals), the Christmas play allows children and teachers to really work together to plan, rehearse and create a performance for family and friends.
Choose carefully
When we write a nativity, we use all of our classroom experience to make sure it will serve the needs of as many schools as possible. The nativity story is remarkably flexible, offering so many different perspectives to write from. Traditional nativities sit alongside the outlandish, with sheep, shepherds, donkeys and oxen increasingly joined by camels, goats, mice, rats, cockerels, spiders or even aliens. All have a place and offer great variety, meaning that a teacher can choose carefully, knowing what is likely to be the most inclusive option. Regardless of which option is chosen, a nativity needs to inspire children. It is, after all, an enthralling story.

As inclusive as possible
There are plenty of simple strategies to help the children feel as involved and integrated as possible. Regardless of the size of part, why not give each character a name and an occupation? Some will even come up with backstories. Try to use different levels on the stage to let the children see what is happening. This also means that parents in the audience will have a better chance of seeing their child, perhaps even getting that all-important photograph. You could sub-divide lines, double-up on lines, or even redistribute lines to children playing different parts from those stated. At The School Musicals Company, we are always happy to provide an editable version of the script, knowing from experience that each school and each production will have its own set of needs and numbers (and it saves busy teachers from having to type it up too). There are lots of ways to make your production SEN inclusive: when rehearsing, do so in short bursts and consider having a breakout space that's quiet with little or no stimulation for those pupils who may need to step away. Rehearsing certain scenes in small groups will reduce anxiety, as will creating a calm rehearsal space. Consider using symbols, visuals, sign language and/or Makaton and key words to support nonverbal pupils. Think about the volume at which audio tracks are played as well as the level of stimulation used in set and costumes – lower levels and simplicity may help. Prepare pupils well ahead of time about the presence of an audience and consider making some of your performances 'relaxed' ones to lessen pressure. When it comes to the songs, it really is a case of 'the more the merrier'. We have yet to see a nativity where the audience mentioned afterwards that the singing was rather too strong. Many young children understandably get nervous when performing: for some, it will be their first ever time on stage. So, regardless of role, try to involve everyone in all of the songs, even if one particular class or year group takes centre stage.

Fun, fun, fun
It's amazing how much more fun it is to sing when actions get added. Whether these are given to the children by the teachers, or the children are allowed to 'freestyle', actions bring energy, not to mention a sense of inclusion. Plus, they are hugely useful in helping children to remember the words and the sequencing of the song. Actions can be added in the very first time a song is learned in rehearsal – there is no need to leave them until later. Make them integral to the learning process.
And finally...
Don't expect perfection from the children or from yourself for that matter. It really isn't an issue if on the night they make some mistakes. The most important thing about performing and taking part in a nativity musical is that the children and the audience enjoy themselves and have a great time. The nativity is often a family occasion where parents, grandparents and carers come to support the children. If your play can create a magical Christmas atmosphere you will have done well.
For more information (song clips, script samples, synopses and blogs) on nativities by The School Musicals Company, including Stable By Starlight (3-6 year olds) by Niki Davies, and The Inn Crowd (5-9 year olds) by Tom Kirkham and Matthew Crossey, visit www.theschoolmusicalscompany.com.