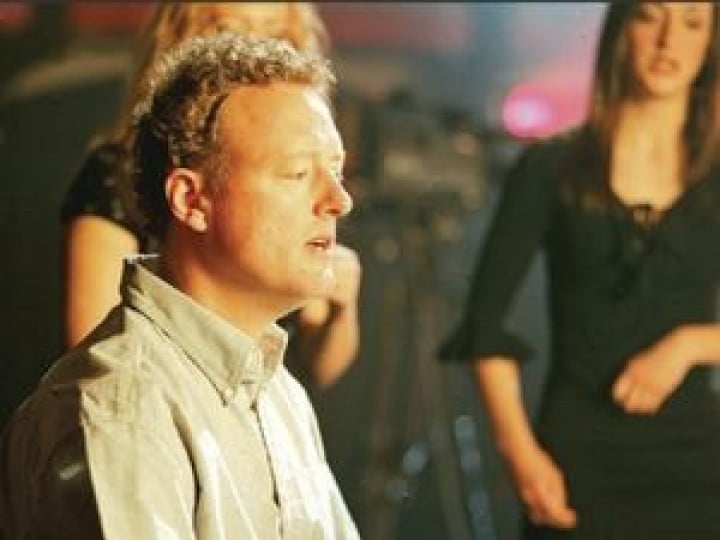 When I was at my Oxfordshire comprehensive, Lord William's in Thame, as a lanky Year 12 with candy-floss Jackson 5 hair, I was asked to compose the music for a musical for the Year 7s, with words by the Lower School head teacher, David Carr (lyricist of Romany Wood). The experience for me, aged 16, of writing 20 songs around a central narrative, creating as many roles as possible, involving a cast of 110, rehearsing, orchestrating and being musical director, was one of the most fulfilling and formative of my early life. David and I ended up writing and producing three such shows; by the third I was hooked on the idea of composing for the theatre for good.
I have written musicals ever since, for the love of it, as along with the vast majority of theatre composers, you can't really make a living out of it. What I did take away, though, from those hugely enjoyable school productions, was the possibility of having such large numbers of students involved as singers, actors, dancers, comic turns and choreographed fighters (we always had a musical battle), the excitement of live performance in front of packed houses and the discovery of talents in young people who themselves didn't know they had it in them, never mind us.
Musical for schools
So why is all this relevant to Sing Up? Well, our job is to get young people singing – all of them, everywhere – and engaging with musical theatre is a great way of doing so. I realise that for many schools, especially primary schools, this is easier said than done.
It's worth looking at some solutions, even if they won't all make sense in every place. The first potential obstacle is who will be the musical director, prepared to give up chunks of his or her time note-bashing, accompanying, coaching, coaxing, cajoling, encouraging and – let's face it – waking up in the night to panic?
Not many primary schools have an on-site, full-time music specialist, but they all have potential allies in local secondary schools who have musical students or recent leavers with much to offer either as players, band leaders or composers (or all three). Some enlightened secondary schools run joint musical theatre projects with their feeder primaries, which is a great model that could be replicated across the country. Finding a member of staff who'd like to direct the show will probably be less difficult: in my experience almost everyone has an unfulfilled theatre director inside of them.
Choosing a show
The second hurdle is the choice of musical. My advice is don't ask the children. They will only know three or four shows, and they will be the same ones everyone else knows. If it's an American or famous West End musical, the fees for performance rights – even for so-called 'Schools Versions' – are ludicrously, often prohibitively, expensive. I have been campaigning about this for years. It's greed that fuels these licence-fee levels and, in my view, it's short-sighted and self-defeating. It's in everyone's interest that a younger generation develops an interest in musical theatre and the best possible way for them to do this is as active participants.
I try to practise what I preach and ensure that the rights fees to perform my musicals, especially those written for young people, are kept to a costs-only level, so that limited budgets are only spent on things like lighting, sound and scenery. What's more, musicals currently being performed by professional companies come with a list of restrictive conditions, like the fact that you can't perform them within 50 miles of the professional performance, and you have to agree to the same orchestration as the original, spending more of your funds on professional players, and so forth.
So look around at the many alternatives to Grease or Joseph provided by publishers, by looking at the multitude of musicals by (professional) British writers, all of whom are members of the Mercury Musical Developments group, and who would love their work to be performed and might even come along and support you too.
Getting them involved
Once the children have started learning a show, they won't care if it's famous or not, I promise you. It's the involvement, performance opportunity and enjoyment, performance opportunity and enjoyment they seek, not the burning desire to be Sally Bowles from Cabaret. Given that you will always have more girls than boys stepping forward for a part in any school musical, it's a great shame that so many of them will have to be in the chorus, while even a mediocre, out-of-tune boy who's willing to perform solo will end up with quite a major part.
The way to avoid all this is to go modern, less well-known, and youth-orientated. Over the past 30 years, first the National Youth Music Theatre: UK, have produced a whole repertoire of musicals tailor-made for young performers, and it would be well worth discovering more of these.
Finally, there is the option of creating a show yourself with the children. This isn't as hard as it sounds, especially if you look for some expert help from an older student or two. Every university and college now have musical theatre groups who mount shows annually. They are cultivating young directors, composers, lyricists and designers. A few beers, a daily Pot Noodle and a lovely first-night card signed by all the cast will be their onerous employment conditions.
I still treasure the card the 110 Year 7 performers gave me after our first musical in 1974, and I confess it was the exultation in their voices singing the final chorus that inspired me to spend a lifetime recapturing that high. What are you waiting for?