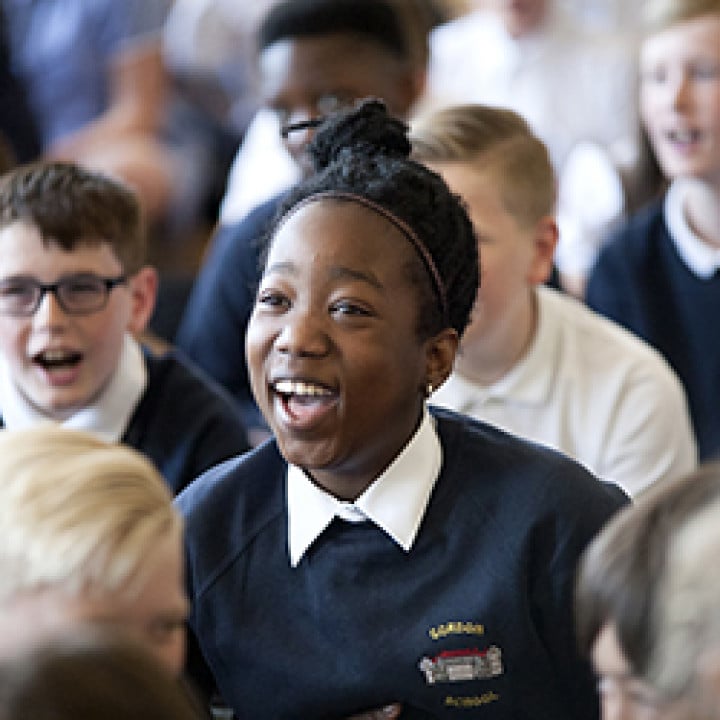 At Sing Up we know that singing in school changes pupils' all-round learning experiences for the better. It can seem daunting to set up a choir and more so to keep one going, but setting one up in school can offer countless benefits.
Singing brings us together
Taking part in group singing can help young people to express themselves, build friendships and develop their social skills. Sing Up's own research shows that children respond excellently to structured sessions in singing. Martin Soulsby explains that as the children sing regularly in class from their first day at North Lakes Primary School in Penrith, Cumbria there's little problems with shyness for pupils or their teachers.
Most successful schools have a strong sense of social cohesion and collaboration throughout the school community, and singing in a choir helps to build these bonds between pupils and their teachers. Martyn Soulsby is proud of the unique sound that his pupils create. The children at North Lakes are used to singing together and, as singing is embedded in to the school routine, teamwork becomes habitual.
Martyn tells us that at North Lakes Primary School they see their whole school as a choir! Singing is taught twice weekly in dedicated sessions, in addition to using Sing Up resources to teach across the curriculum. In assemblies, pupils sit in teams in the school hall, often breaking in to harmonies and rhythm sections. The older students in year 5 and 6 support the younger children and take on more difficult harmonies. Martyn sees that challenging the older students in this way to become leaders builds their confidence while also inspiring the younger years.
Making plans
North Lakes School has 120 of its 220 pupils on its official choir list. This large pool of talent allows Martyn to think logistically for each event and the children can take turns taking part. Being strategic is clearly important when it comes to engaging children. Martin holds rehearsals at lunchtime, which doesn't clash with after school sports clubs. This is also a key in keeping a large number of boys involved - Martyn keeps in close contact with the P.E staff on what's coming up in the Football rota! Martyn also thinks carefully about repertoire and finds that having access to a broad range of songs works best. The children of course make suggestions and you can involve them with decision making.
Support your budding singers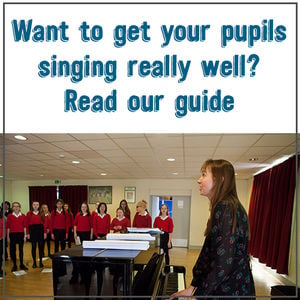 Martyn makes good use of a secure online platform where he uploads a song every week for the pupils to work on at home. To help them further, Martyn creates separate tracks covering the words, melody and harmony. North Lakes School children often practise at home with their families and this support from the home is, Martyn believes, essential to the longevity of the school's choir and the children's continuing engagement in music. It's clear that a tremendous amount of hard work has gone in to getting North Lakes School to this level and Sing Up are proud to help keep them singing.
Show off your school
Starting a choir in your school could be a great source of pride and build the confidence of pupils so they improve across the board. North Lakes School have built up a relationship with local composer Jilly Jarman, who is commissioned annually to write a carol for the school. The children love taking ownership of a new song and are themselves budding songwriters. With this level of focus on singing, the children take their enthusiasm for music on to secondary schools in the area and by doing so help fight the battle for continuing music education with their musicality and knowledge.
Sing Up has a huge bank of songs and resources providing everything you need to start a choir in your school – a great place to start is our Top Ten Songs for Choirs playlist.
Top tips from Martyn:
You don't need a pianist to run a choir, just your voice.
Utilise technology for organisation and to help your students practise.
Don't be afraid to challenge the children, they get a huge sense of success when they master a song.
Always start with the basics like diction before adding extras like physical actions. Good habits last a lifetime.