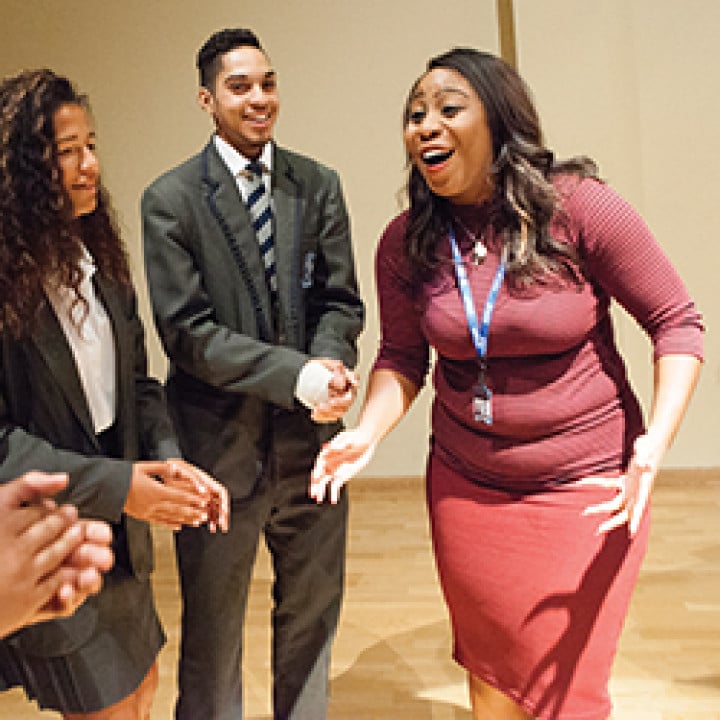 According to Voices Now's Big Choral Census in 2017, some 40,000 choirs (more than two million singers) meet regularly in the UK to sing together. That is apparently an estimated 300,000 more people than play amateur football - quite a vote of confidence from a nation that worships at the altar of the beautiful game.
So choirs would appear to be alive and kicking. But what draws this hugely diverse range of choirs together in the first place - whether it is schools, workplace, health, identity, or community? What keeps them together and what exactly happens when large numbers of people gather together to sing?
Getting started and sticking together
Whether open access or semi-professional, ask choir leaders the key elements it takes to form a choir and 'enthusiasm' heads the list. Team spirit, leadership, a vision and shared goals follow closely behind.
Baz Chapman of the National Teachers' Choir (NTC), whose members meet for one weekend termly and perform UK-wide in between, adds, 'Leadership is hugely important - if you want to start a choir it is worth investing in some training and find the right repertoire. Knowing how to run a good rehearsal and get a choir ready for performance are key. We have something called 'choral discipline' - it's about knowing how to present well, how they engage their audience, how they respond to applause. Engaging people in a performance is more important than getting every note right.'
One NTC member observes the choir gives them a chance 'to shine', while Chapman says it can provide an opportunity for teachers to let off steam and bond. It can also act as a kind of ideas incubator for their work, offering tools and techniques to take away.
'We don't audition but it is a really great choir. We work hard through leadership to get them to a high standard. Of course there is kudos in it being a national choir but it also helps our members to be happier people, to come away for the weekend and sing together and to share how they are getting on (perhaps getting singing started in their school) with others.'
Steve Cook, Senior Assistant Head Teacher at Formby High School in Merseyside, whose portfolio of choirs includes Year 7-9 training choir FHS Singers, African a cappella group Mundo Afrika, a chamber choir and community gospel choir G:Force, reckons, 'Identify goals to work for - recordings, concerts, workshops. Keep things fresh and high profile to value the work done.'
Integration, alignment and having a sense of purpose are important,' says Charles Beale, Artistic Director of the 260-strong New York City Gay Men's Chorus (NYCGMC). 'Sometimes that can be about wanting to be the best, sometimes that can be about having something to say - in the case of NYCGMC it is 50% about having something to say and 50% about knowing about difference; we know as a minority group that there are many people who've been discriminated against, who've experienced homophobia, who are struggling with themselves and their identity.'
Catherine Andrews, Music Director of Highfield Choirs at Highfield Infants and Junior Schools in Bromley found demand from parents and older children was so high after starting the ball rolling that she has added a 70-strong community choir and youth choir into the fold. But initially it was a leap of faith.
'I have always believed that for something to succeed you need an end goal. I persuaded a local chamber choir to invite my non-existent choir to take part in their Christmas concert six weeks later,' says Andrews.
Setting the tone
Dessislava Stefanova who leads London Bulgarian Choir - a non-auditioned choir whose members are not all Bulgarian but all live in London - says members with little or no experience of singing in choirs often produce the natural sound her repertoire demands.
'Some of the people who have become soloists have come with very little confidence but they have either a very natural tone or they are incredibly receptive to suggestions because they have never been influenced by other ways of singing,' says Dessi. 'They have no pre-conceived ideas about how to sing in a choir and they have the most natural-sounding Bulgarian voice.' She is wary of choirs' aspirations to televised choral competition. 'It can crush you...choirs are there to nourish you.'
London Bulgarian Choir's new members start in a 'baby choir' where they learn the repertoire 'as a family' before progressing to the performance choir when they have settled in. 'It doesn't mean I am always kind - you don't always have to stroke someone with a feather. I try to challenge each member personally, that may be in terms of stage presence or getting the small group around them to blend better,' says Stefanova.
NYCGMC's Beale, believes the respectful tone you set in rehearsal and in the choir's interactions with each other is crucial and can translate to the sound they make.
'For some people their first act of coming out as a gay man is to join our group. We are the kind of group that is a safe space, always. We are respectful, always. We listen, always. We are nice to each other, always. And I believe that affects the music, I can hear that spirit,' says Beale.
Baz Chapman adds, 'Probably one of the most powerful things we do is get people to close their eyes and get them free harmonising - there is an ability to find the harmony if you give them the freedom and the permission to try. There is something about releasing that musical freedom instead of just reading notes that connects them to the root of what singing is.'
Catherine Andrews adds, 'I know that if I don't show enthusiasm then I won't get it back from the choir. It can be exhausting at times but it's also so uplifting! I am absolutely prepared to make a fool of myself in front of the kids too. It is really important to show that it is OK to make mistakes, particularly in rehearsals.'
Members' benefits – mental wealth
Whether they organise themselves around a weekly rehearsal as in the case of the London Bulgarian Choir, termly weekend retreats like the NTC or daily singing in schools like Highfield Infants & Juniors and Formby High School, choirs are intensely bonding experiences.
Alice Nicholls, a singer and music therapist whose choir Harmony at Hawthorn based at Wortley Beck GP surgery in Leeds has tripled in size since starting in September last year, says her singers report that their weekly rehearsal combats isolation.
'Some members have said it is good for them mentally and gives them something to look forward to in the week, gets them out of bed in the morning. Others have gone from being quite isolated to forging friendships, which I find very heartening,' says Nicholls.
The challenges of starting a choir in a healthcare setting included: finding the right space to rehearse (a room just off the surgery waiting room, leaving the door ajar), attracting members (by printing choir details on the back of prescriptions) and finding the most inclusive repertoire (re-arranging songs for two rather than three parts).
Baz Chapman, who is himself a member of Ex Cathedra and community choir CBSO So Vocal, adds, 'I've sung in choirs where someone was living with cancer and it became a really important weekly touchstone for them or someone caring for a relative with dementia, it gave them somewhere to re-charge.'
In the case of NYCGMC's Youth Pride Chorus, it can provide literally 'life-saving' support for youngsters.
'I can say from first-hand experience that the Youth Pride Chorus has saved lives,' says Beale. 'The kids we work with tend to be at-risk youth in NY, they arrive at our LGBTQ community centre and singing in our Youth Pride Chorus is offered as part of the programme alongside medical and housing needs being met. Sometimes they arrive with profound issues that are making them very sad but singing can be a way through all that.'
While the emphasis on outreach work in schools by Beale's adult choir is also growing there is more work to do in the future, not least offering help and expertise in response to an explosion of enquiries from schools about gender non-binary singers and voice change.
Reaching across the generational divide, benefiting society
Depending on the choir, singing together can offer a uniquely intergenerational experience.
'There aren't many situations in our community where a 19-year-old and a 65-year-old are sitting next to each other like they do in NYCGMC,' says Charles Beale, who admits the mix is not without its challenges. 5-10-minute workshops within breaks in rehearsal re-focussing members on what they love about the choir helps 'knead everyone back into the dough'.
Beale succinctly characterises the role choirs play for 'social good', 'We do a big singalong show every year. And the reason? I always say it's hard to hate someone you just sang a song with.'
Further reading