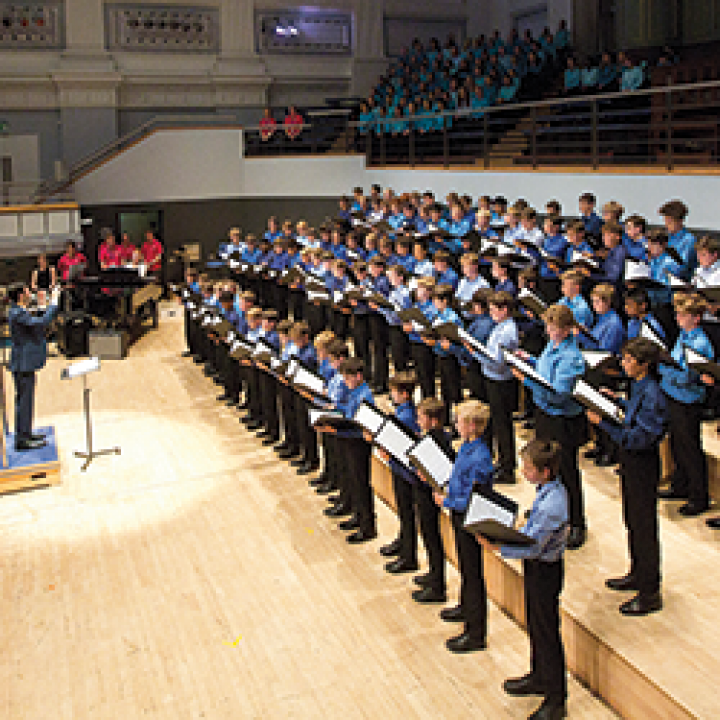 NYCGB and Sing Up work in different contexts but we share the same beliefs: in the transformative power of singing together to change young people's lives, in music's central place in a balanced education, and in the vital role and impact of great teachers and inspiring teaching. (We're also very proud that Sing Up Chief Executive Michelle James is a former National Youth Choir member.)
National Youth Choirs of Great Britain (NYCGB) has come a long way since it was founded as a single choir in 1983. Some teachers are still surprised to learn that there are now five NYCGB choirs catering for singers from Year 5 to University leavers. At any one time, some 700 to 800 children and young people hold NYCGB membership, with roughly half of this total made up by our Junior Boys' and Girls' Choir members. There are also exciting new training programmes for young people at the top of our organisation, with our Fellowship Programme (launched in 2015) for young choral leaders, and our brand new Young Composer Scheme. It all adds up to more opportunities and points of entry for more young singers and musicians of all ages than ever before, and we hope that more primary school teachers will start to consider NYCGB as an opportunity for singers showing real ability and potential.
At the same time, we see ourselves as part of a wider offer and understand that we are just one contributor to young singers' development. So, we urge teachers to think about other opportunities for their singers, and to be confident about suggesting them to children and their families: as our member profiles show, it's possible to do NYCGB and plenty more besides.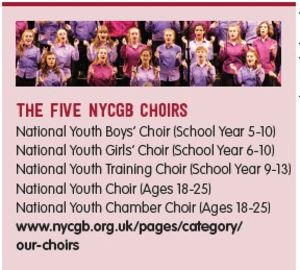 Recent highlights
Our work to make NYCGB more accessible goes hand in hand with our commitment to support access for all. We are passionate in our belief that children's financial circumstances should be no barrier to opportunity. Our Financial Assistance Scheme now supports one in five NYCGB members each year with every cost of taking part, from audition fees to course fees, travel expenses, and concert tickets for families. We have increased this assistance by 50% since 2013 and are committed to developing it further. It is also important that we make ourselves approachable to as many young people as possible with a truly diverse mix of music and performance opportunities, and we are proud of the variety we've offered in the last five years in particular. Thanks to these efforts, and the development of our Widening Access and Engagement programme, we are delighted to see that more young people from a wider range of backgrounds than ever before are enjoying the transformative experience of NYCGB membership. The ethnic diversity of our membership as a whole has increased to match national census data, with 13% of members now identifying as non-White British. In our junior choirs our diversity is actually greater, with 18% identifying as non-White British. We are also seeing a really encouraging shift in the proportion of state school membership, which has climbed from 30% to 37% in the last four years, with this year's audition cohort reaching 41%. We look forward to seeing further development over the next 5-10 years – but we know that it won't happen by itself.
This recognition is one driving force behind the most significant change in NYCGB's 35-year history. Since 2013, NYCGB has been 'not just for members', delivering a nationwide outreach programme that now reaches more children and young people each year who aren't members of NYCGB than those who are – over 4,000 in 2018 alone. We do this in a number of ways, starting with singing workshops for primary schools, which introduce many children to the joy of singing in a group for the first time.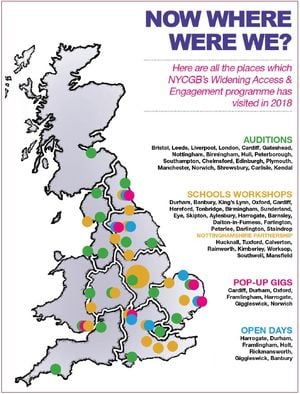 More strategically, we work on a rolling basis with regional partners to support singing education and opportunities across a wider area. Our current partnership is in Nottinghamshire, where we are working with the county Music Hub and Nottingham Royal Concert Hall to support singing in 10 state secondary schools. More than 1,250 pupils have benefited from school workshops and concert performance showcases so far, and the results have been incredible, with one school even reversing a national decline and offering Music GCSE for the first time as a direct result of a whole-school shift in attitudes to music.
Recruitment to NYCGB is a possible outcome of this work, but it's not a priority. At the same time, we are doing everything we can to make the NYCGB choirs themselves more visible and accessible. Since 2016 we've held open days on every course, welcoming 324 visitors, taken our choirs out into public spaces for free pop-up gigs, singing to nearly 3,000 members of the public, and added new venues to our national auditions programme. Social and digital media have also revolutionised our ability to engage with audiences year-round, and to show them what NYCGB looks and sounds like. So, even if you're not sure whether NYCGB membership is right for your talented singers right now, there are lots of ways for you to find out more, including an exclusive GB Sing Up Members offer to attend one of our Summer concerts for free, and a chance to win a singing workshop for your school (check your summer 2019 issue of Sing Up Magazine for details).
So NYCGB is more open than ever before, but that's only half the story. In recent times we've been able to collect specific data from audition candidates about their reasons for applying, and 40-50% cite a teacher as key to their decision to step forward. We suspect that this has always been the case: certainly all of the former members of NYCGB interviewed are clear about the importance of teachers to their development. As for the future, education secretaries will come and go, and music's place in education will rise and fall, but we confidently predict that the power of individual teachers to make a difference will never change. In fact, we'd go so far as to say that you are essential to NYCGB's future, because without the best possible links and relationships with teachers, our ambitions for excellence and true national representation will only ever be ambitions.
It's our hope that this collaboration with Sing Up will bring us into better contact with more teachers than ever before, and to a greater awareness of what we can do for each other. Please enjoy and share all the articles and ideas that we've collected for you that have been added to this site, and please get in touch and keep in touch!
With best wishes,
Ben Parry and Anne Besford
Follow NYCGB on social media