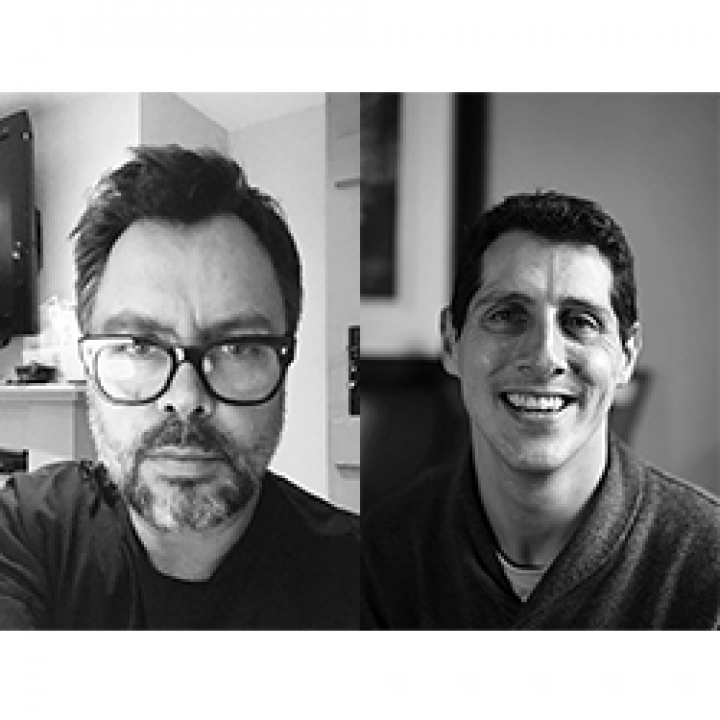 We speak to the duo behind The School Musicals Company about how they combine their expertise when writing songs for schools.
Tell us about yourself
I'm Matt Crossey and I have worked in the music industry pretty much my whole life. I am one half of the Crossey/Kirkham writing duo and I am the Creative Director at The School Musicals Company. I am married with a twelve-year-old daughter and I live in Guildford, Surrey.
I'm Tom Kirkham, Publishing Director of The School Musicals Company and the other half of the Crossey/Kirkham writing duo. I am also a qualified teacher and a singing/drama tutor for Stagecoach. I am married with two young children and I live in Godalming, Surrey.
How did you first get into songwriting?
Matt
When I was in my late teens and early twenties (the late 1980s) I toured in bands as a singer and guitarist. I initially signed a recording and publishing deal with a company called Ram productions to make an album. The band was a 'put-together' project and the songs were written for us by the producer. Although I had written songs previously I was fascinated by the way the producer 'crafted' a song, how he structured them and how he tried to make them as catchy as possible. I watched and I learned. After that project ended, I started writing my own songs in earnest and very quickly secured a publishing deal with a large publishing house called 'Morrison Leahy Music', famous for publishing artists like George Michael, Pink Floyd and The Jam. I wrote for them and then for other publishers and released a number of 'also-ran' CDs through the 1990s. As much as I loved writing songs, it was really hard to make a living at it without a big hit under my belt.
In my late twenties I started working for the publisher Warner Chappell on the marketing side of their sheet music division. I did this for eight years moving my way up to be their Marketing & Creative Manager – signing catalogues and artists to put in to print. After leaving Warner Chappell I ran a small record label for a very short period of time before joining the education publisher Out of the Ark as their Marketing Manager. I spent eleven years at that company and became their Marketing Director and at the same time I started writing songs again. I ended up contributing to eleven of their songbooks and many of those songs are still sung term in and term out by schools up and down the country.
After a chance meeting with Tom Kirkham (his wife was my daughters form teacher) we decided to get together to write our first musical, Paws & Claws.
Tom
I have always had a love of reading and writing, especially words and their origins, and in particular playing around with rhymes, rhythms and patterns. I was also lucky enough to learn the piano as a child, which as an adult has afforded me the chance to put these patterns to music. I studied English Literature at university many moons ago, shortly followed by a move into teaching. As an English and Drama teacher, I began to write short plays, sketches and articles for use in schools and at the Edinburgh Fringe. Then Matt got in touch one day after seeing some of my material and we decided to collaborate on a piece.
Tell us about your creative process. How do you get started on a new musical?
Probably the hardest part of writing a musical is deciding what to write about. Our musicals are a mixture of 'out of copyright' stories and complete originals and with each we are looking for something that sparks our imagination, so that we know in turn it will spark the imaginations of teachers and their pupils.
When we settle on an idea, Tom will initially sketch out the story and then we work out where the songs should sit to help drive the narrative. After that we tend to do quite a lot of work separately as Tom works on the script and I develop the song ideas. Once strong melodies are in place and we have settled on appropriate keys, we then work on the lyrics together and make sure the songs are neatly woven into the storyline.
How does writing for a musical differ from writing songs for the classroom or assembly?
We write songs in our musicals to strengthen the narrative of the story being told. Our assembly songs are more likely to convey a general idea, like being 'Proud Of Our School' or be a song that ties in with the seasons or something that is happening at school. Either way, our main aim is to write songs which are catchy, up-to-date and great fun for children to sing, regardless of whether the songs are upbeat and energetic, or slower and poignant.
Can you give some advice to other songwriters about how to convey a story through song?
Start with a really good idea and don't be afraid to discard lots of ideas along the way before you are happy. We have started writing complete shows and then stopped because the original idea just wasn't engaging us enough. Make sure that you have brilliant, catchy melodic hooks that get stuck in people's heads. Use lyrics that really conjure up strong pictures, be descriptive but equally make sure the words don't spoil the flow of the song.
What lyrical considerations do you have when writing for young singers?
There are quite a few things to think about. Firstly, some words just don't sound nice when they are sung – so we discard them. Some words are hard to say, let alone sing – so we are always aware of that. Some difficult words can work as long as they aren't crammed in to lines where the singers will struggle to take a breath. We do like to include some words that children probably won't know, nothing better than looking something up or guessing what something might mean within the context. It is also important to know who is going to sing the song and who is the intended listener.
Who are some of your biggest songwriting inspirations?
Matt
I love well-crafted songs and it doesn't really matter who has written them. I am equally happy listening to a song written by Neil Finn, Katie Perry or The Beatles or to something from Oliver, Rent or Hamilton. I also listen to a lot of very current music, thanks to my daughter. I think Hallsey is on permanent repeat in our house.
Tom
I am a big fan of Paul Simon. His music and lyrics have plenty to say, but always through wonderful melodies and superbly-crafted pieces. As a lyricist, I enjoy the humour of Tim Rice's lyrics, and think that Tim Minchin combines music and lyrics very cleverly and creatively.
Can you give some advice to teachers about how to select the right musical for their class? What do they need to take into consideration?
More than anything, teachers need to choose a musical that they themselves like, that they feel they could stage successfully and happily, that they believe the children will enjoy and that they feel is appropriate to the age and abilities of the children. It is definitely worth listening to all of the song samples, reading the script samples and the summaries. Thereafter, because we are happy for teachers to make tweaks and edits to our shows to help it fit their needs, then any of them should be workable.
Where can we find your songs and musicals?
You will find our songs on our website www.theschoolmusicalscompany.com and also on the Sing Up website. Also YouTube is also a good place if you want to listen to song clips from our shows.
Can you tell us what we'll be seeing from you next? (Or give us a hint!)
It's January 2019, so that means Christmas prep has started! We are currently in the middle of our follow up to The Inn Crowd and then we are also recording and editing another three or so Christmas related shows over the next four or five months. After that we are moving on to another musical and for once we have already decided what it is. Sadly we can't say what it is as people like to copy us!
Our long term plan is to write a full musical for adults but at the moment there isn't really any spare time.