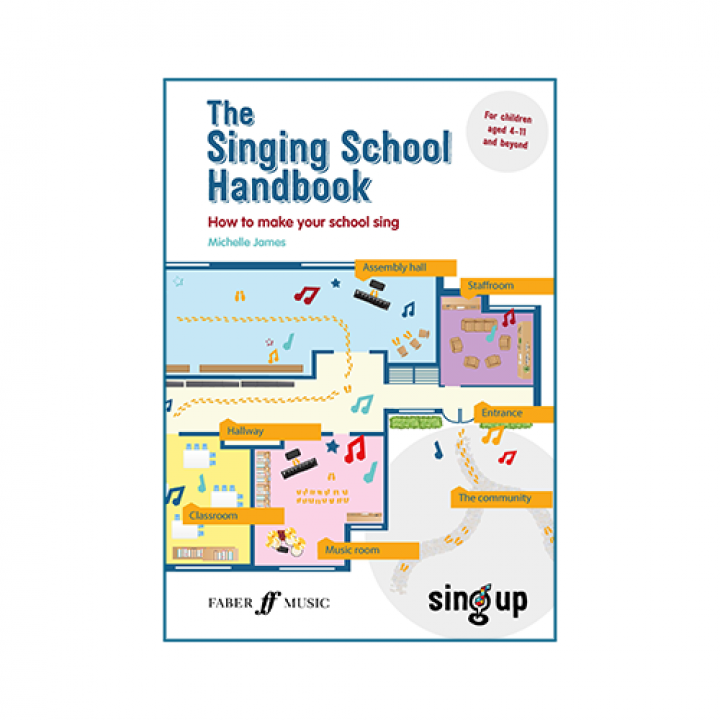 With universally transferable principles, suggestions and strategies, the The Singing School Handbook provides a framework that applies to any educational setting or school structure from the ages of 4-11, and beyond.
A Singing School is a place where singing is right at the heart of school life and where the whole school community knows and can describe what difference singing makes to their school.
Becoming a Singing School motivates everyone to work together towards a common goal while taking part in an activity they can all do and enjoy – singing.
With fewer hours being allocated to arts subjects and less provision for music in school life, The Singing School Handbook gives teachers a way of incorporating music into everyday learning. It shows teachers that singing is not something they necessarily need to set extra time aside for, but that it can be used to enhance the teaching of core subjects and, at the same time, improve pupil engagement, self-esteem, teamwork and school morale.
Michelle James, CEO of Sing Up and author of the book explains:
"The educational and social landscape for children and young people has changed significantly since Sing Up began in 2007. Pressures around academic performance often lead to arts subjects being marginalised in schools. What you will find though is that music, and singing in particular, helps create well-balanced, resilient young learners with strong peer networks and friendship groups.
Singing does something unique to our bodies and minds and it is this which we wish to help schools harness for all children to benefit their development and provide lifelong enjoyment."
Lesley Rutherford, Publishing Director for Faber Music said:
"We are delighted to have worked with Sing Up and Michelle James in bringing this invaluable resource for schools to publication. We believe that by introducing singing into every aspect of the school day, the lives and learning experiences of children will be enriched and we are sure that The Singing School Handbook will enable teachers to achieve this."
This practical handbook includes planning tools, case studies and troubleshooting alongside warm ups, games and song ideas. It also offers guidance on how to start a choir, vocal leadership techniques, SEND advice and vocal health information.
The Singing School Handbook is a joint publication from Sing Up and Faber Music, written by Michelle James, and will be released on 7 November 2018, with pre-order available from 8 October at fabermusicstore.com.
EDITOR'S NOTES…
Sing Up
1. Sing Up places singing at the heart of education by providing a complete singing package through a digital music platform, termly magazine and training. Sing Up's extensive range of songs and resources are designed to help you use singing for cross-curricular learning in the classroom or to act as a complete foundation for musical learning across the school, with early years to age 18 and beyond. Sing Up enables you to fully reap the many fantastic benefits of singing.
2. Sing Up began as a government funded programme to reinstate singing in primary schools in 2007. It was a successful programme, reaching 98% of primary schools by 2012. Since 2012, when the funding stopped, we have sustained ourselves entirely through earned income from schools' membership subscriptions and the continued loyalty and investment from schools is a sign of the value they place on singing and on the work of Sing Up. To our knowledge it is also the only previously fully-funded government initiative which has been able to keep going entirely from self-generated income.
3. Sing Up has always been a champion of the wider benefits of singing – for education, social and health outcomes – and marked our 10th birthday in 2017 by launching the Sing Up Foundation, a new charity with a commitment to a new charitable purpose around singing.
For further information please contact:
[email protected]
t. +44 (0) 20 7908 5149
Twitter: @SingUpTweets
Faber Music
1.Faber Music was founded in 1965 by Benjamin Britten, who was seeking a publisher that would offer the highest score production standards and tailored services to promote and disseminate his works. Fifty years on, the company is now one of the leading independent British music publishers. At the core of Faber Music's print catalogue are tutors, repertoire and educational publications by world-renowned figures in their respective fields, including Dame Fanny Waterman, Paul Harris, Pam Wedgwood and international pianist Lang Lang.
For further information please contact Rachel Topham:
[email protected]
t. +44 (0) 20 7908 5149
Twitter: @fabermusic