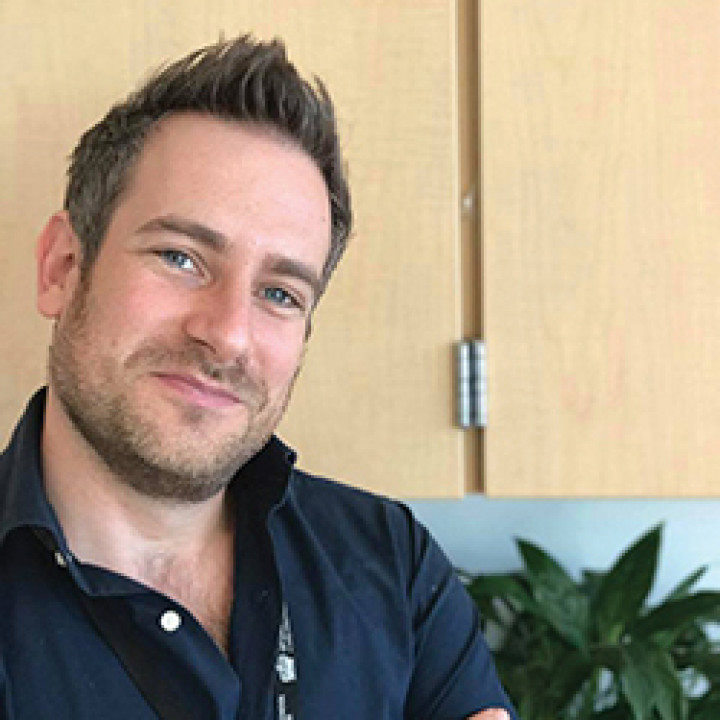 School: British International School of Chicago, Lincoln Park
Position: Specialist Teacher of Music
Can you describe what music and singing currently happens in your school?
Music is a huge part of school life at the British International School of Chicago, Lincoln Park (or BISCLP for short). Every child accesses music, starting off with the youngest children in the pre-nursery class, all the way up to our Year 6 students. And of course, singing is an essential element that takes place in all of their lessons, every day.
Your music rooms are amazing. Tell us more about them?
Over the summer of 2016, our school building was remodeled, and a lot of the rooms were worked on to enable greater learning opportunities / expand facilities for the students. The music department was lucky enough to move to the old science rooms, which allowed us now to have two very large music rooms. Furthermore, we have two connecting rooms in-between the classrooms, which we use as music practice rooms and work spaces.
As a professional musician and qualified teacher, (having won a Larissa Lovelock scholarship for postgraduate study in Music) how does this influence your teaching and expectations of pupils?
As a professional musician, I am extremely passionate about sharing my love and understanding of music with a wide variety of audiences – and doing this with young people and children fills me with incredible joy. In my career so far, I have become increasingly interested in how the arts play such a vital role in the aspect of school life, but also the entire community around us. I feel so privileged that I am able to do what I love doing every single day and try to teach my students to use music making to help the community and world around us all.
One of your pupils was quoted as having said "I like Mr. Liddle because he gave me the confidence and inspiration that I could do anything if I set my mind to it."
How do you think music specifically played a part in this?
Music, and especially singing, is something that everyone can do. And it just feels GREAT! Performing together in a choir encourages children to feel safe within a loving, supportive team, but also builds confidence in other academic subjects, such as Literacy, History, Geography… the list is endless. Music is such a unique subject and I love helping my students to be inspired by the stories that lie behind a composition or song… and showing them how they can relate their own story to the music.
You follow the IPC. Where and how do singing and music feature in it?
I love teaching the IPC curriculum, as it's a completely organic way of working. A lot of planning is influenced and changed as the learning process goes on. The children have loved exploring the history behind songs or looking at how the geography of a place has influenced a whole genre of music.
What is so unique about your music curriculum designed by The Juilliard School?
Since 2015, we have been extremely lucky to be part of the Juilliard – Nord Anglia Performing Arts Programme. We were selected as one of the inaugural schools to start this partnership off, and it's been just an incredible experience. We are a very strong team of music staff at BISCLP who are extremely passionate about delivering the Juilliard curriculum to our fantastic students, enabling them to unlock their creative potential in more ways than ever before. We have been fortunate to benefit from extensive professional development opportunities and in-person training sessions from Juilliard alumni. Consequently, we now have an exciting, ongoing relationship with Juilliard Curriculum Specialists and Performing Artists resulting in one-on-one support and multiple visits throughout the year to further enhance our existing music programme.
How do you get top notch performances from your pupils?
I love getting the students to really understand what a song's all about. Who wrote it? What do the lyrics mean? Which lyrics do you think are the most important in a phrase or verse? Why? We really deconstruct everything as a big team working together, and then put it back together again. Knowing a piece inside and out really helps children perform at the next level and helps everyone internalize and make the performance their own.
What are your Top 5 Sing Up Songs and why?
There are just so many that I love…
Currently loving Donkey riding and using this with my Year 1s who have come up with some great partner clapping and dancing to go with the chorus.
Mo li hua is just such a stunning song, and the school choir loved exploring the lyrics and background of this music. A Chinese child and mum helped us pronounce the words.
Reception and Early Years love The bean bag song. My Year 5 students heard us singing it the other day and came to join in too.
The king is in the castle was a super one enjoyed by KS1 when they studied their topic all about Knights and Castles.
Another fun one has been Oleo. We loved making up our own call and responses and having fun with tempo changes and dynamics.
What would be your top tips to a teacher who wants to improve singing in their school?
Pick repertoire that's fun, exciting and maybe a bit different. Children love exploring and digging deep into stories, so songs with interesting lyrics and things that tell stories are always a hit.
How do staff, pupils and the wider community benefit from singing at BISCLP?
We recently took our chamber choir to a local senior living care home as one of our choir member's grandparents lives there now and couldn't make it to the school to hear them perform. We took along the school dance troop too and gave the residents a wonderful afternoon of performances and music.
What are your aspirations for singing and music in your school?
To make everyone feel that they can make music and be inspired by the stories that make the music happen – and pass this on to everyone they meet!