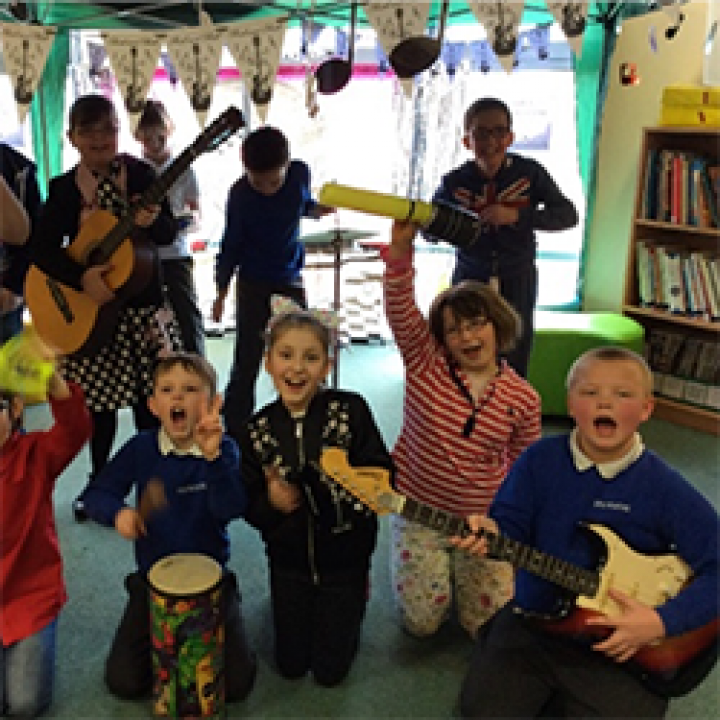 Sometimes we're simply blown away by the amazing singing our Members and Sing Up Award Schools are doing as part of their regular school day activities. That's why on Sing Up Day especially we like to invite participants to share their stories of how they're taking part and offering students a whole day of music.
Music Co-ordinator Becca Tranter of Fosse Way School (a Sing Up Member and Gold Award School) got in touch about their day of music on 14 March and we just had to share these great ideas. Here's what Becca told us...
Fosse Way School had a great day celebrating Sing Up Day! In addition to the Sing Up Day theme of Be the change, we also had our own 'Rock 'n' Roll' theme to celebrate our young instrumentalists in school.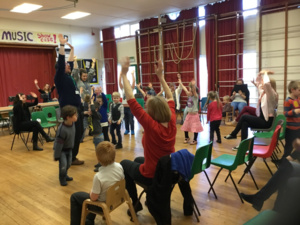 In the morning everyone was invited to attend a range of singing workshops with Tim Parker from the BANES Music Hub, where they learned some rock 'n' roll classics like Bon Jovi's 'Living On A Prayer' and practised their air guitar. You could hear the singing all around the school… It was great to see so much enthusiasm.
Some groups also attended a Ukulele Workshop led by Jody Prewett. This was a great opportunity to get a feel for our lunchtime Ukulele Club and lots of pupils came away proud that they had learned to play 'a tiny guitar'.
The orchestra were getting ready in the morning for their first live performance… so there was a great atmosphere in the hall as they practised together.
Various musical activities were taking place all around the school, from 'Guess the lyrics' challenges to 'Be the change' activities. It was brilliant to see pupils walking around the school with their lyric sheets, reading and singing the lyrics to some well known rock 'n' roll songs.
We also had 'Singing Star Challenges' to complete and I am proud to say the winning tutor group was… 2LD! They earned an amazing 93 singing stars, which has to be a new record. They earned a special commendation for recording a secret video of our Head of School singing. Great teamwork.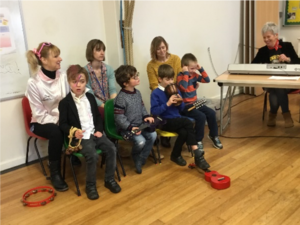 Another highlight was our Rock 'n' Roll photo booth, where there was the chance for pupils to strike a rock pose with their favourite instrument/inflatable prop. This was great fun and prompted some musical instrument exploration.
In the afternoon we held our first 'Marvellous Live Music Showcase', featuring the orchestra, Ukulele Club, Tiny Trebles Choir, Showstoppers Choir, Instrumental pupils and music groups. This was a very popular showcase which attracted so many pupils and families that there was standing room only at the back of the hall. What a great turn out - Thank you to all who attended and I hope you enjoyed it as much as I did. All pupils involved in the performance should be very proud of themselves and they were an inspiration to many, so well done everyone. The orchestra also gave their first ever public performance, where they remembered their parts and played with rhythm… so 'stay tuned' for their next performance.
Finally, I would like to say thank you to the BANES Music Hub for their continued support – To Tim for bringing so much excitement about singing, Jody for encouraging our young instrumentalists and leading our great Ukulele Club and Tara for giving our new orchestra the confidence to perform together. We truly are a Golden Singing School!
Becca Tranter – Fosse Way School Music Co-ordinator