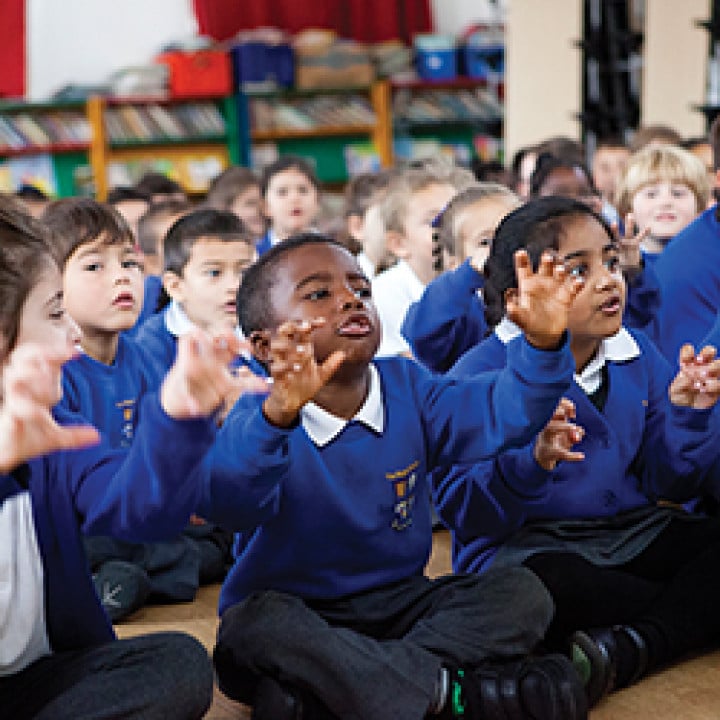 What is the International Primary Curriculum?
The International Primary Curriculum (IPC) is used by over 1,800 primary schools in more than 90 countries around the world; with 1,300 of these schools in England. The IPC focuses on thematic, project-based primary learning rather than separating subjects.
The prescribed units of work range from 'Chocolate' to 'People of the past' and units such as 'Buildings' explore music in creative ways, like looking at how music is structured or built. The units are divided between four age groups: ages 3-5, 5-7, 7-9 and 9-12. As the topics get more complex, students are given more challenging activities such as having to plan and perform a West African masquerade or write and perform a Greek chorus. Each unit has specific learning goals categorised into academic goals, personal goals (e.g. resilience, morality, and respect) and international understanding (e.g. learning about the value of similarities and differences between countries).
The IPC is unique in the flexibility allowed to teachers within the framework. The structure of teaching is designed so that subjects are better integrated and are made more engaging for the pupils involved. Another feature of the IPC is that it can be adapted to children's interests and level of understanding. We know that children and young people learn best when subjects are linked together, and research strongly suggests that facts are easier to remember when you sing them.
In multi-disciplinary learning, improving understanding in all subjects is the aim
Catherine Andrews, Music Director at Highfield Infant and Junior Schools in Bromley says, 'Sing Up has songs that perfectly fit the topics. Singing a song about a new subject can spark a child's curiosity and give them the confidence to explore the topic in more depth.'
Music is a fantastic tool for supporting learning in other subject areas that should be utilised whenever appropriate. However, it's important to be aware that while improving learning in another subject, musical learning may not be taking place. You can create a powerful multi-disciplinary learning experience when combining several subjects equally to develop understanding of a theme, experience or idea. To achieve this you can make sure that when you include music and singing there's always a focus on the musical outcomes.
As arts subjects are being increasingly restricted in some schools due to a variety of pressures, we need to find creative ways to embed regular musical learning and singing into the curriculum. The notion of joined up learning advocated by the IPC supports the integration of music to benefit cross-curricular learning and improve musical understanding for the numerous benefits that brings; especially personal development.
Sing Up's resources are designed so that there's something you can use in any topic that you're teaching. With hundreds of curriculum-tagged songs in our Song Bank we know it can sometimes be hard to find exactly what you're looking for. To help you find what you need we've put together some Top 10s for each curriculum area. Each page has expertly picked Top 10 songs for that curriculum area, as well as a playlist filled with heaps of extra songs for that subject. You can also search our Song Bank using the Topic and Subject filters.
For further reading on ways to use singing in the broader school curriculum, click here.