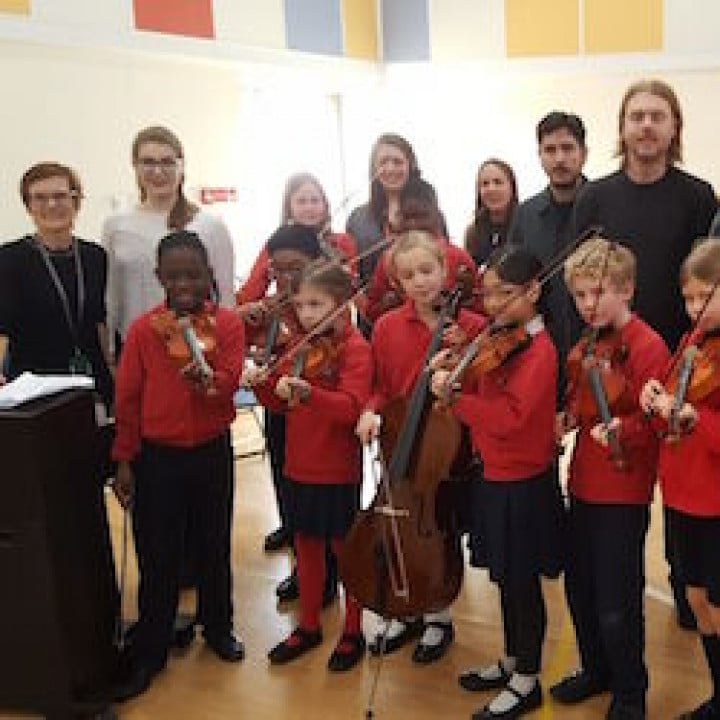 On Sing Up Day, we like to celebrate by taking a moment to visit some of our local Sing Up Member schools to experience the singing and music that people are creating first hand. Claire Le Tissier, Sing Up's Marketing & Sales Executive, spent the morning at Hotham Primary School in Putney. As one of the schools who has been with us since the earliest days of Sing Up, we were excited to see that they would be taking part in Sing Up Day again this year and eager to find out why singing is still important to them. Here's Claire's experience.
On Sing Up Day, 14 March, I had the most wonderful time at Hotham Primary School.
I was warmly welcomed and then, along with parents, teachers and governors, sat down for their special celebration of music with the School Choir, Community Choir, and instrumentalists.
The choirs treated us to an amazing performance of this year's song Be the change, with the adults in the community choir supporting the young children through the harmonies and key changes – they nailed it!
After this, string players from across all year groups performed a series of solos, duets and group pieces. They all showed a great sense of musicality for their age. The rest of the school clearly enjoyed the concert and were super supportive of their peers.
The finale of the concert started with a single cellist playing Ode to Joy, and gradually other musicians and singers from around the hall joined in creating a fantastically powerful and emotional finish to a great concert.
Having a head of music like Helen Bradshaw is clearly a huge advantage for the school – she is passionate and determined to make the most of music at Hotham, so everyone wants to get involved. It's clear that music is valued here and they have been with Sing Up since the very beginning in 2007. The school has such a friendly and creative atmosphere - it was the best start to Sing Up Day that I could have wished for.
If you took part in Sing Up Day 2018 make sure you send a video of your singers performing Be the change to [email protected].