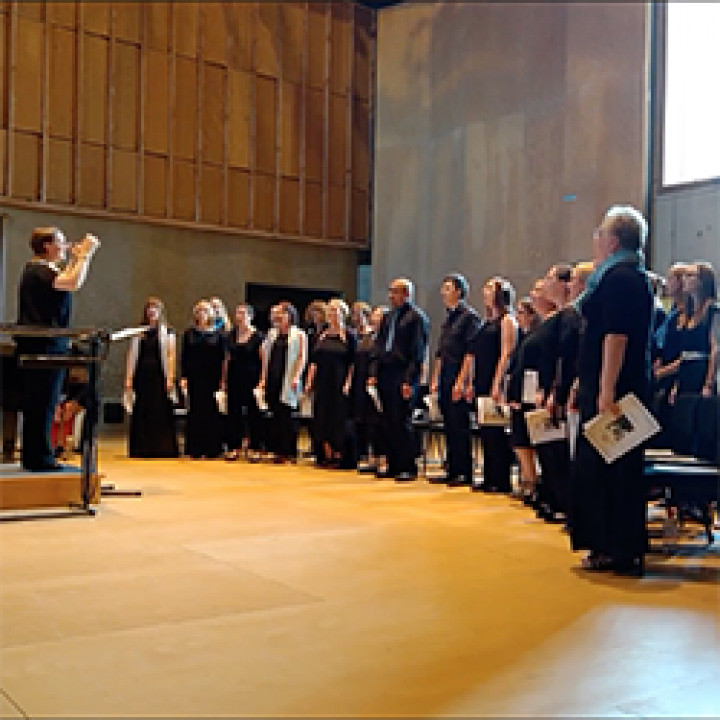 At Sing Up we always champion the benefits of singing in schools and the positive effect it has on students and teachers alike. Joining a choir as a teacher either with your own staff in your school, with the National Teachers Choir or a local community group, is a great way to build your confidence and start feeling the benefits of singing for yourself.
The benefits of singing
Singing has been proven to not only boost your confidence and keep you smiling but it can be used to help you manage stress, battle illness, and maintain a healthy heart. This is especially evident when singing as part of a group and recent research has discovered that singers' heartbeats synchronise when they perform. Additionally, singing has been proven to release hormones related to alleviating stress and anxiety – all in all making it a perfect post-work activity.
Have you thought about joining a choir? You should.
We've learnt from our Teacher Spotlights that pretty much all of the best singing schools have some sort of staff singing. The benefits of singing with your co-workers are enormous; it helps you bond, boosts your confidence as a vocal leader, and helps to give all staff the confidence to sing in the classroom. It can be a great opportunity to test out repertoire or sing songs that you enjoy but your children might not be able to manage. To help get you started, we've got a handy guide to setting up a staff choir. We even ran a webinar to show you how easy and fun a staff choir can be.
Baz Chapman, general manager of the National Teachers' Choir, has seen choral singing improve teachers' practice. 'It helps them to be more confident singers. They take a lot away in terms of leadership, how rehearsals are constructed, how to make the most of your time, finding out the great warmups, the most useful repertoire etc.' The National Teachers' Choir – a nonauditioned choir open to all UK teachers and music educators – meets one weekend a term to explore repertoire, vocal techniques and leadership.
Teachers report that the benefits of singing with co-workers are enormous; bonding, developing your confidence as a vocal leader, and gaining confidence to sing in the classroom are just a few of them. It can also be a great opportunity to test out repertoire or sing songs that you enjoy but your pupils might not be able to manage.
Tips for starting a staff choir
You don't have to be a performing group, and this isn't about adding pressure to teachers' already busy lives. Making singing a regular
feature of staffroom life is a great way to have fun with colleagues.
Acknowledge the fear: There's no denying that some adults really don't have confidence in their singing abilities. Ultimately the best way to deal with this is to start singing – and doing it with a group will give them more confidence to sing in front of their class.
Bridge the gap: Argue with your colleagues that yes, it can be scary, but if we approach the voice in terms of sound, exploring all kinds of vocal noises in warm ups, the gap between confident speaking and confident singing is reduced.
Point out the links: Inform colleagues that far from becoming a chore, singing can bring new life to aspects of children's learning and help embed the curriculum in their memory.
Offer a taster: With your Headteacher's support, set up a 15-minute session so that you can offer reassurance, practical steps, offer to facilitate future singing sessions and, most importantly, get singing.
Baz offers one more piece of advice to help your choir bond and to harness the mixed range of abilities in the room. 'It has to be authentic – you can't tell a choir that they have to look like they are having the best time of their life or to move a certain way, they have to feel it themselves.
'Probably one of the most powerful things we do is get people to close their eyes and get them free harmonising – there is an ability to find the harmony if you give them the freedom and the permission to try. There is something about releasing that musical freedom instead of just reading notes that connects them to the root of what singing is.'
More ways to train your voice
Whether or not you decide to join a choir, it's important to keep singing whenever you can. There are plenty of ways to boost your vocal confidence. Why not start by learning about how the voice works? Or you can try spicing up your daily routine by incorporating songs into everyday tasks. Whether you're singing while you wash the dishes or singing the register in class, you're guaranteed to make time fly and end up feeling better afterwards!
Further reading
And if you're feeling ready to become a vocal leader or try out some songs for choirs, become a Sing Up Member for more.