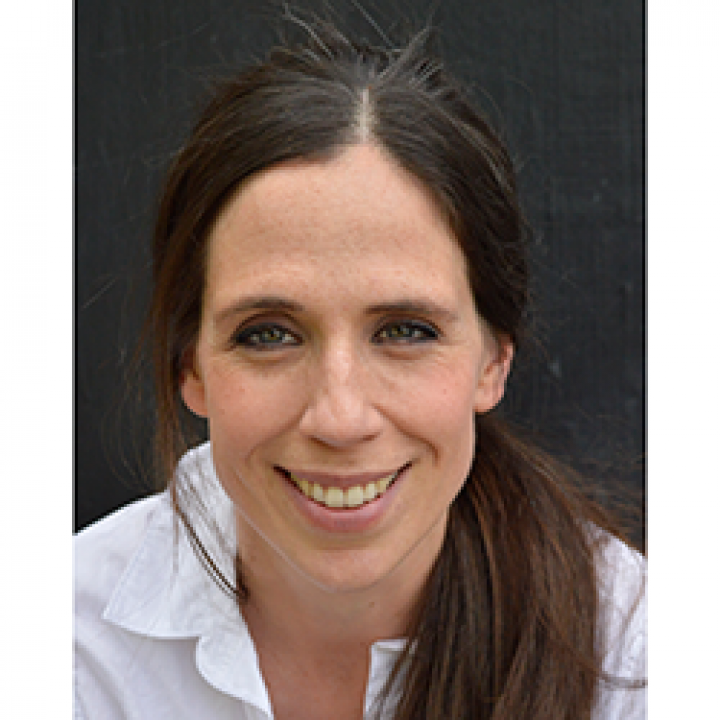 Name: Catherine Andrews
Position: Music Director of Highfield Choirs at Highfield Infants and Junior Schools in Bromley
How important is singing to you and your school and why?
The press recently has been full of stories of the incredible power of singing; from increasing confidence and self-esteem to improving academic ability and even claims that it can cure cancer. With the pressures that children, teachers and parents are placed under, singing, it appears is the perfect antidote to today's academic demands.
But there's so much more to it than that. The children and adults that I teach often talk about that 'goosebump' feeling that they experience when they sing; when everyone breathes together and sings as one voice. It's impossible not to feel uplifted and joyful. This is why I sing.
How do the children feel about singing?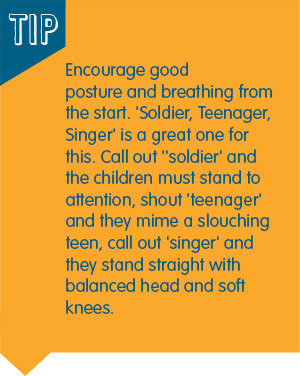 The children at the Highfield Schools are incredibly proud of their singing. Children embrace singing because it is completely inclusive. A child doesn't have to be academically gifted to sing well. I can work with 30 children for a year and have absolutely no idea of their academic ability. In fact, some of the best singers and performers that I have worked with are often those who struggle with reading and writing but have an amazing ear and can pick up tunes, rhythms and lyrics with great speed and sensitivity. For these children singing is crucial for their confidence and sense of identity.
Tell us a bit about how you've integrated singing into your school.
In just under two years singing has become an integral part of every child's school day. Children are able to access singing at all different levels throughout the week.
The whole school learns a new song weekly in Singing Assembly. Every year group has class singing lessons and class teachers use songs in their lessons to introduce new topics. Nearly 200 children participate in weekly choir practices and 40 children have group singing lessons. There are also 25 young singing leaders who lead playground singing. The children have opportunities throughout the year to perform to different sized audiences in a variety of venues.
What impact has singing had on your whole school community?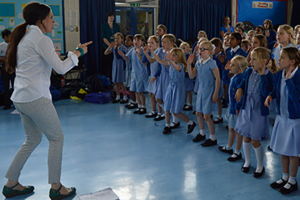 Singing has had a profound effect on the whole school community. I can't think of any other activity that brings the whole school together so closely.
I make sure that the Infants School (which is in a separate building) learn some of the same songs as the Juniors. Our Year 2 children are invited to join the Junior Choir in the summer term which helps them with the transition to a new school. I have even had new Year 3 children standing up in front of the whole junior school helping me with actions!
I also encourage children to teach the songs to their parents. In fact, the parents and teachers were so inspired by the children's' singing that they persuaded me to set up a Community Choir which now has 70 members. I also run a Youth Choir for the children who have moved to Secondary School but still want to be part of the Highfield singing community.
Given that you use the International Primary Curriculum (IPC), how does singing fit in with that and how has Sing Up helped you?
The central ethos of the IPC – to explore individual identity, different perspectives and societies - is something that many songs have as their subject matter. More specifically, Sing Up has songs that perfectly fit the topics. The IPC also emphasises an interdisciplinary approach to learning. Singing a song about a new subject can spark a child's curiosity and give them the confidence to explore the topic in more depth.
Have you got any back to school tips?
Get a concert in the diary! I've always believed that it is incredibly important for children to work towards a performance. You can simply arrange for a class to sing their song in assembly or put on a mini concert at the end of the school day for parents showcasing the songs that the children have been learning. The process of learning a song, getting it to performance pitch and singing it in front of an audience is incredibly important (and thrilling for the children and audience!)
Ask the children to help you. Assign singing leaders in each year group to help you teach the songs. You can have singing stops in the playground where children can share their singing.
What are your favourite songs on the Sing Up site?

I particularly like the warm-up songs that are in several parts. Ken and Barbie's beatbox groove is a fabulous warm-up song and gets any reluctant singer going - it also has the hardest tongue twister I have ever come across! I started teaching this only to upper year groups but children in the lower years were desperate to learn it too. In fact, several Year 1 children perfected the tongue twister quicker than any of the older children. Let's start to sing is similar.
I feel that I've only really scratched the surface of the songs available on Sing Up. I have different favourites for different occasions and choirs. My favourite assembly songs are the ones that are anthemic and have repetitive powerful choruses such as We are the champions, Raise my voice and my absolute favourite One and a million. These all have incredible backing tracks too.
The children at school love singing pop songs. Some of their favourites are Rockstar, Skyfall, The world's greatest, and the boys particularly like Count on me especially with ukulele accompaniment. There are some wonderful songs that tell stories, too - Roller Ghoster and Interwoven tapestry are both perfect for actions, and there some superb versions of songs from musicals.
What are your favourite singing resources?
Sing Up has completely transformed my teaching. Although I do also use a keyboard, using the backing tracks allows me to completely engage with the children rather than trying to crash my way through an accompaniment!
Have you got a favourite singing transformation story?
I made it my mission this year to get boys singing. I introduced them to songs by the Beatles making sure that they knew just how cool and innovative the band was. Many parents stopped me in the street to tell me that their child had become obsessed with the Beatles songs and had been working their way through their parents CD collection!
The result of this was being able to put together an awesome boys choir of 50 who performed a selection of Beatles songs in two part harmony with a band comprising of children from the school. I think they surprised themselves!
Be our next Teacher Spotlight
Get in touch at [email protected] and let us know what you've been up to! Make sure you see more of our Teacher Spotlights for inspiration.