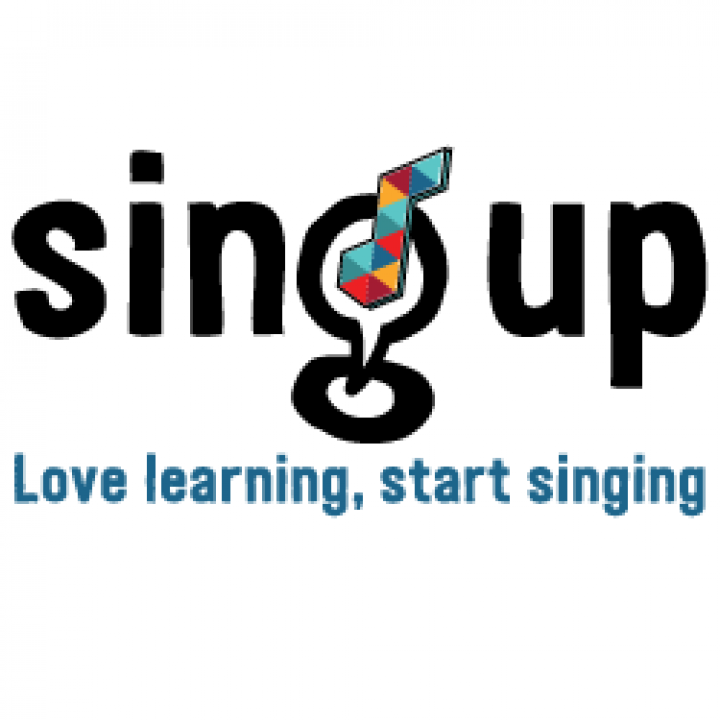 Sing Up, the organisation with an 8-year history of supporting singing in primary schools, has announced that from January 2016 secondary schools will for the first time have access to a Sing Up Membership designed to support the learning needs of older students.
Successive reports on music teaching in schools by Ofsted have identified problems with the way in which music is taught in secondary schools. Ofsted found that beyond Key Stage 3 (usually ages 11-14) music became a 'specialised activity for a small minority'. They also found that singing was generally underused in secondary schools as an ideal route to teaching music.

'Corporate singing in the secondary schools visited was rare, even though the school leaders often said they regretted this. They did not know how to develop it and singing became a specialist activity for a few students only. Singing was rarely used in the lessons observed as a means of communicating musical ideas and promoting better learning, by students or teachers.'
-Ofsted, November 2013

In response to these findings and concerns that singing might be in danger of disappearing from some secondary schools, Sing Up has created a new collection of songs and music education resources to improve and support singing with the intention of ensuring that music isn't allowed to become a minority activity for young people in secondary schools. Developed with the support of secondary school music teachers working in schools where music is thriving, Sing Up Secondary will help teachers promote a lifelong appreciation for music in their pupils, and ensure that all young people have the opportunity to develop as musicians. Sing Up has taken Ofsted's recommendations into account when creating the resources.
Michelle James, CEO of Sing Up, explained the organisation's vision in expanding into secondary learning:

"It is proven beyond doubt that engaging in musical activities brings huge benefits to young people in terms of their educational, social and emotional development. We have been told repeatedly that when children transition to secondary school, access to music and singing declines, with many having very few avenues through which to cultivate their musical potential.

"We have always been keen to do whatever we can to help sustain continuity of musical experience as children move schools. Based on evidence from our pilot projects, we know there are steps that can be taken to markedly improve engagement, musical progression and learning outcomes. There is excellent music teaching and singing in some secondary schools already, so it can be done, and we would like that to be the case in every school."

Sing Up is now the complete singing package.

Sing Up was previously funded by the government to run the National Singing Programme for primary schools. Since the end of its government funding three years ago, Sing Up has been operating successfully as an independent not-for-profit company working exclusively with primary schools and is now entirely self-sustaining with no public funding, grants or donations.

"When the sector first proposed a national singing programme to the government back in 2005/6, the vision was to support singing for children and young people from early years through to age 18. It was always our intention to expand into secondary education at the earliest possible opportunity. We believe that all young people have a right to a good music education."

Sing Up has received support from the music exams board ABRSM in bringing this vision to fruition.

Lincoln Abbotts, ABRSM's Director of Strategic Development said: "A young person's experience of music can be a magical one and one that, with the right support, can transform their lives. We want to ensure every child has the opportunity to continue that exciting journey when they move to secondary school."

Information for class music teachers, vocal teachers and choir leaders.
Sing Up Secondary will include:
Songs and resources for use with classes from KS3 up to sixth form. Lots of songs and warm-ups to help you teach the music curriculum including: performing, improvising, arranging, composing, listening and appraising. Search/display songs by musical topic, scoring, style and age.
A range of useful scores and audio including: melody/lyrics/chords, chord song book, full arrangements, parts for class playing/singing (including tab), performance, echo, backing and rehearsal tracks. A range of scoring formats for choirs including flexible, upper voice and mixed voice arrangements. Consideration for changing voice and suitable keys/part writing.
Great repertoire for a range of choir abilities; simple enough for Year 7 class singing, right through to sophisticated part-writing for upper sixth-form and chamber choirs.
Performance material suitable for KS3, BTEC, GCSE and A-Level solo/ensemble vocal performances, including piano accompaniments and high quality backing track accompaniments. A range of repertoire suitable for small group and individual singing lessons.
Schools, organisations and individuals interested in finding out more are warmly invited to register their details on the Sing Up site or to contact the Sing Up team:
[email protected]
020 7908 5148
For more information or to arrange interviews/photos contact:
[email protected]
020 7908 5148
EDITOR'S NOTES…
Sing Up was government-funded as the National Singing Programme from 2007–2012. During that time 98% of English Primary Schools were registered users of Sing Up's resources. When the funding came to an end in 2012, Sing Up took the brave step of becoming an independent company and has been entirely self-funded through earned income since then.
The original announcement of government funding for a National Singing Programme was made by Alan Johnson, the then Secretary of State for Education and Skills, in January 2007 following a sustained campaign around the lack of singing in schools, fronted by the Music Manifesto.
Sing Up Secondary will be a 12-month Membership package that Secondary schools will be able to buy for £295 plus VAT. It will include access to the complete Sing Up Song Bank of over 800 songs and the termly Sing Up Magazine, which will be expanded to include Secondary materials.
Sing Up has been supported by ABRSM to develop Sing Up Music (for primary schools) and Sing Up Secondary.
Ofsted resports: bit.ly/su-singingOFSTED1; bit.ly/su-singingOFSTED2