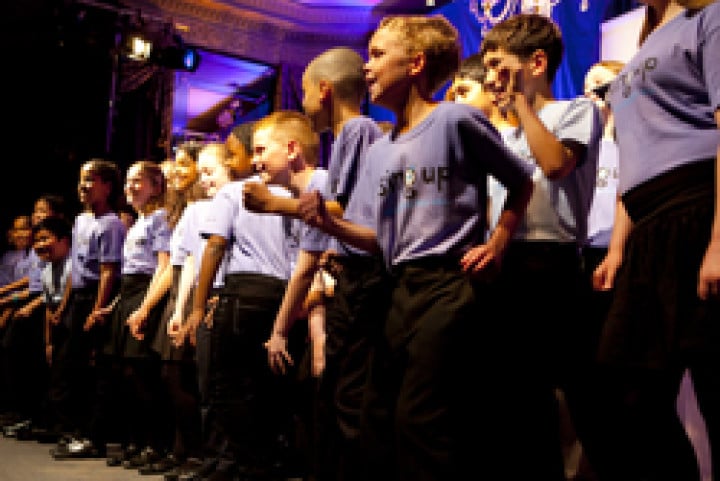 The annual Royal Philharmonic Society (RPS) Music Awards, presented in association with BBC Radio 3, are the highest recognition for live classical music in the UK.
Awards are decided by some of the music industry's most distinguished practitioners, and the list of previous winners reads like a 'Who's who' of classical music. Sing Up was recognised as a project that has broadened the musical experience and understanding of participants on a huge scale.
This year's RPS Music Awards ceremony was hosted by BBC Radio 3's Katie Derham and Andrew McGregor and featured a performance by Sing Up Platinum School, St Mary's RC Primary.The education award was presented to Baz Chapman, Sing Up's Programme Director by international pianist Imogen Cooper.
Baz Chapman said: "We are absolutely thrilled to win the education award and would like to congratulate all the nominees in the category. We believe that singing is a key part of the foundation of all music making and learning. Tens of thousands of individuals and organisations across the country – teachers, headteachers, vocal tutors, young singing leaders, parents, schools, music services and community music organisations, as well as our outstanding staff teams – agree, and have made Sing Up the success that it is, dramatically changing the culture of singing in our primary schools for the better. This award is for all of those people, as we look forward to a bright future for music in our schools".
Richard King, Chief Executive of Faber Music (a consortium partner of Sing Up), was equally thrilled by the achievement:
"Sing Up has, in its first four years, literally transformed the musical lives of primary-aged children, teachers, parents and carers in the UK. Reflecting the rich musical history of our nation from its folk music roots, through the great composers, to present day writers in all genres including contemporary pop and rock, Sing Up has facilitated the widest possible range of music within the primary classroom. My deep, sincere admiration and gratitude goes out to the hundreds of composers, arrangers and educational writers who have been involved to date in creating and sustaining the Sing Up Song Bank', which lies at the heart of the Sing Up programme. Their creativity and practical excellence has enabled Sing Up truly to deliver, reaching unprecedented numbers of young people in the process. Thanks to them, Sing Up really has enabled kids to 'find their voice'."
Christina Coker, Chief Executive of Youth Music commented: "This award recognises the transformative effect Sing Up has had in schools and their wider communities across the country, and an acknowledgement of its invaluable contribution to primary education. Over the last four years Youth Music has been proud to be part of the enthusiastic and committed team that has worked to deliver a world class programme and establish the foundations on which to build to sustain this important work".