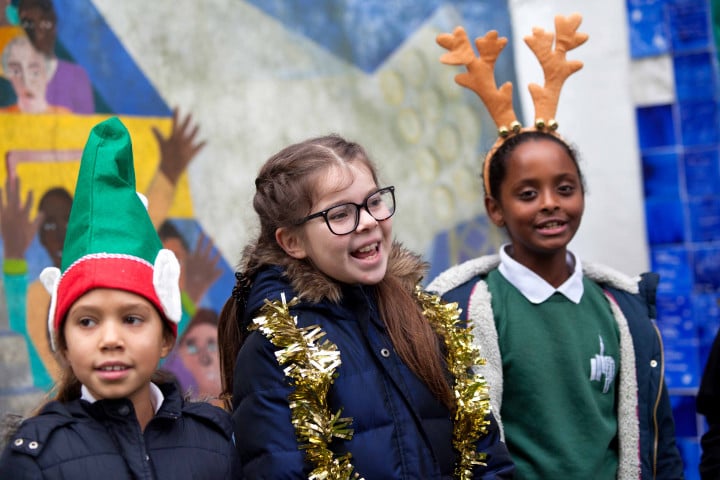 We know that some schools are feeling nervous about their Christmas concerts and nativities but that disappointing the pupils is the last thing anyone wants after everyone's hard work preparing and excitement about performing live for an audience.
If you are able to go ahead, here are some precautions to give you the confidence that you are taking reasonable steps to sing safely.
Keep the room in which you're singing well ventilated. Keep a window and doors open and, if possible, keep a flow of air moving.
Keep some distance between each singer.
Take regular breaks to move about, change the air and rest voices. Try to keep the performance times short (20 – 30 mins) with breaks in between.
You could consider purchasing an air filter (HEPA filter) for the room. One of these will clean the air and monitor air quality at the same time. Even quite small ones cover quite a large area in a room.
Ask visitors to the school to do a covid test before coming to your performance and require them to wear masks in school.
Provide hand sanitiser points for everyone to use when they arrive and before they leave.
Encourage your singers to think about making a beautiful, unforced and gentle sound. Avoiding very loud or 'shouty' singing will produce a better result, be safer for their voices and will not be spreading aerosols, too.
Recorded performances
If your school decides that the only way to go ahead is by recording the performance rather than having a live audience attend in school, here are some tips to help you through the various processes involved.
Before you begin
For both concert performances and recording sessions, there is some preparation to do before the day to make sure you get the best out of everyone. Before a session, plan a schedule including plenty of breaks. The order you record songs in can have a big impact on your singers' energy levels. You could always try recording songs in sections, or tricky verses with a smaller ensemble of your most capable singers.
Positioning
If you have access to professional recording equipment, use a 'studio pair' of microphones and place them in the middle at a 90 degree angle to each other – one forward to the left, one forward to the right.
You could even use your smartphone's or iPad's recording function set straight in front of your choir. The quality is remarkably good.
When recording live performances, you can't always control the acoustics of the room, so do your best to position the group as close to the mics as possible and if you are using a backing track, make sure the singers can hear it clearly so they stay in time and in tune with it.
Remember, extraneous noises can ruin an otherwise brilliant recording – listen out for shuffling feet, coughs, or noises outside of the recording room. You may also want to display the lyrics on a whiteboard to avoid rustling papers. If you have the time, you could get several takes of the song and choose the best one, treating each recording as a performance, even if you don't have an audience in the room.
And remember, singers who are looking up, smiling and enjoying their singing will always sound better.
Editing
Once you've finished, save your work as an audio file. You could take it further and enhance the sound in audio-editing software such as GarageBand or Audacity.
Sharing your recordings
Sing Up Members can record video or audio of your own performances of any song in the Song Bank with the intention of hosting your own recordings on platforms with licences for music content sharing. These include, for instance, YouTube and Instagram. Before uploading and sharing your recordings, we advise to check the Terms & Conditions and uploading policies of any third-party platform or website – it is your responsibility to make sure you comply. If you are intending to share your video or audio recording on platforms or websites without licences for music content sharing (or if you are unsure whether the site has a licence) we recommend contacting PRS for Music for advice. You may also find www.copyrightandschools.org useful.
You should still be reporting any eligible uses of music to the relevant licensing schemes, e.g. CCLI and SPML.
And of course you'll need the usual parental permissions to video/record the pupils and share those recordings as well.
The Sing Up team hopes that you all get to enjoy some festive singing this year. If you tag us with @singuptweets we will endeavour to retweet as many of your seasonal posts as possible to spread the joy!
Happy and safe singing!