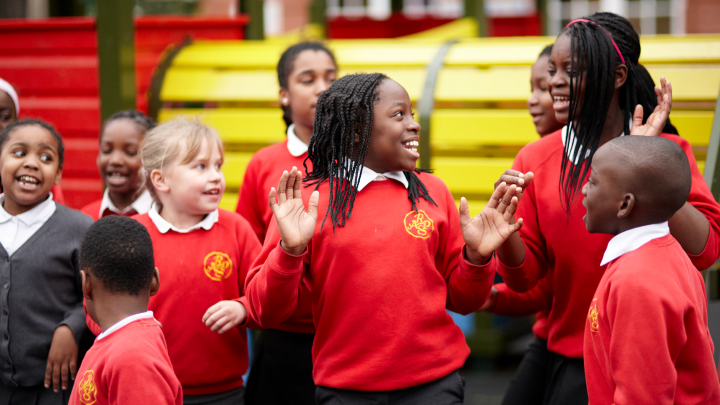 The end of the autumn term is in sight! Before you head off for a well-earned break, we wanted to share the headlines of what you can find on the Sing Up website ready for the start of next term.
We're all looking forward to spring – that optimistic season of new beginnings, of renewal, and of recovery. Here at Sing Up, we've been busy working on gathering resources and information to support you and your young people back to school and back to learning in 2021. We recognise that for many schools, focus will be shifting on to individually designed approaches, and we've got all the things you need to help you deliver on that for your students, addressing the key themes and losses caused by the pandemic that every school's recovery curriculum will be built around: routine, structure, friendship, opportunity, and freedom.
Our recovery curriculum resources are not prescriptive or sequenced but intended to be used in a 'pick and mix' style to suit your context and the young people in your classes. They are divided into 5 categories:
Relationships – resources and suggestions for how singing, music making and/or listening activities can strengthen relationships and working together, for young people and adults. Songs to help re-establish school values and culture.
Me and my community – song resources exploring feelings, and the vocabulary of feelings, to help all individuals in the school community express how home schooling/lockdown/the pandemic has impacted them. Songs to celebrate individuality and uniqueness. Songs to help recognise and develop a sense of community. Ways of connecting school and home using music and song.
Knowledge – using songs as a springboard to deliver knowledge and learning in particular areas. Subject themed songs and playlists to support catching up, especially in English and Maths.
Skills for learning – songs for focusing attention, memory boosting, and improving concentration; songs on the theme of personal development, resilience, and positive thinking; subject led songs that are fact-based.
Finding your voice – enriching topics through songs, ideas for open-ended creative tasks like songwriting activities, support for pupils to sing at home (using our Sing Up at Home area). Resources and suggestions to underpin pupils' self-directed learning and passion projects. Song activities that fire the imagination; songs that may help to inspire and celebrate the joy of reading.
So, whatever you're all working on together from January, we've quick and easy ways ready to help you to use songs in a variety of ways to enrich the learning experiences of your young people, and to aid recovery for all those in your school community. We look forward to welcoming you back in the new year. Until then, we hope you have a marvellous and restful end of term holiday.
Season's greetings from our family to yours,
The Sing Up Team