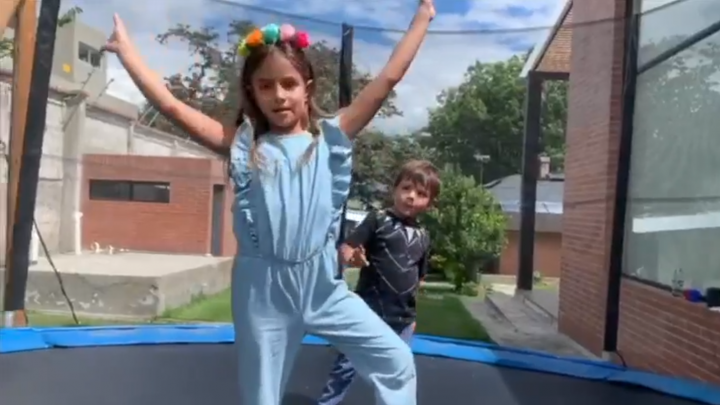 Music and singing are important parts of school life at Colegio Menor in Ecuador, so when the school closed for lockdown in March 2020, Maria del Carmen Andrade made sure her pupils were still engaged in music as much as possible while they were at home. Each week, rather than setting a work assignment, she asked the children to send in videos of themselves singing or dancing along to a song.
By choosing songs with positive messages from Sing Up at Home like There's a power in the music and Raise my voice, she focused on making the assignments fun and inspiring, saying 'The thing I like about Sing Up's resources is the messages in the lyrics of the songs – they are really powerful. All of these statements, like 'we're one big family' and 'I believe in myself', these are what we need in today's world – it goes straight to your head and heart.'
To make sure the children really enjoyed the assignments, she even encouraged them to get their families to join in. Later, she would edit together all of their videos and create virtual choir videos featuring the children.
The results were wonderful – her pupils loved seeing themselves in the videos and this spurred them on to participate in the next ones. It wasn't only a great way for the children to feel connected to their friends and the school community, but it made them want to join in and do more singing at home too.
Singing brings joy
Like many teachers, Maria del Carmen is also clearly dedicated to her pupils and their wellbeing. With the pandemic worsening in Ecuador, she described the uncertainty and fear in her country and her desire to lift the spirits of her pupils through music. She believes: 'Teachers have a special part to play in this moment because we have to find a way to reach and bring joy to the kids. We need to support them and we need to keep them singing and dancing and feeling this joy inside of them.'
With pupils across the world now returning to school, music is a vital tool for boosting young people's wellbeing during this time of change and uncertainty. As schools navigate children returning, implementing 'recovery curriculums' or establishing new routines and structures, we can find new ways to include music and song safely throughout the school day, even for those schools which are not back to singing yet.
Resources for singing and wellbeing
Sing Up has created new resources and collections that focus on improving children's wellbeing. Our Sing Up at Home resources are available for anyone and include playlists for every mood, arrangements for virtual choirs, and our selection of incredible song videos, with audio tracks, teaching videos and activities. These resources are ideal for pupils to use anywhere and are also great for teachers' Continuing Professional Development (CPD).
Speaking about our song videos, Maria del Carmen said: 'The activities helped me a lot and were a real model for me. I watched the videos over and over again and honestly they teach me how to teach because I am not an expert. Teaching virtually has been hard for me – working out how to reach the kids and keep them singing. I am not a musician but I really try to do my best every day and try to improve and give that to my kids so when I see these teachers who are excellent singers, I try to learn from them.'
Members can find our new Song of the Week teaching videos in our In School area, which also includes short guides and advice for using songs in school as well as our autumn term collections, with materials for celebrating different events such as Harvest and Christmas.
To boost pupils' moods and promote wellbeing, Members can also find our playlists for fun, including opportunities to enjoy singing silly songs or get moving with actions or dancing, and our playlists for feeling and growing, covering themes such as self-esteem, resilience, and feeling calm and settled.
To sample some of our Member exclusive content, sign up as a Sing Up Friend for free.
Over to you
How have you been finding ways to boost pupils' wellbeing through song either at home during lockdown or in school? Drop us a line, we love to hear from you.
Watch Maria's pupils and their families having fun singing along to Can't stop the feeling for one of their assignments here. Have a go singing Can't stop the feeling in our Song Bank and dance along with our special choreography for the song.