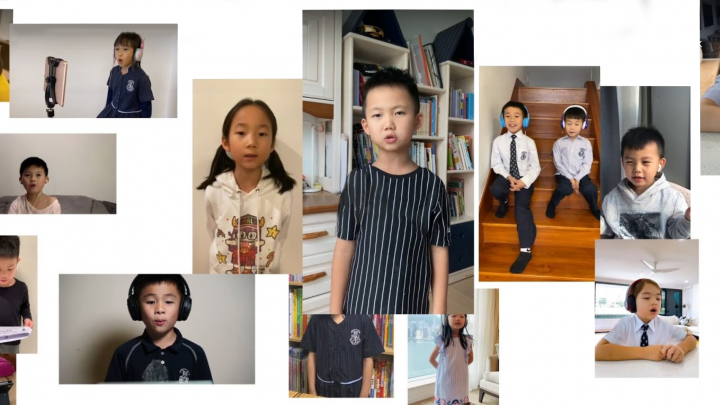 During the last few months, we have been continually inspired by the innovative responses from teachers across the world dealing with changes to routines caused by the coronavirus pandemic. Balancing pupils learning from home and some still in school presents unique challenges which require unique solutions. Harrow International School in Hong Kong came up with a fantastic way to involve the whole school in Sing Up Day earlier this year while the school was closed during lockdown.
For their school's Sing Up Day Digichoir submission, music teacher David Drew created a collaborative whole-school project where pupils sent in videos of them singing at home. These were then edited together to create one whole-school Digichoir, perfectly encapsulating the message of our Sing Up Day 2020 song There's a power in the music and our goal for Sing Up Day to bring people together through song wherever they are.
David said: 'In reference to many of the lyrics within the song, There's a power in the music challenges an assumed feeling of isolation for many of our pupils in that they will be uniting to perform as one whole-school 'digichoir'. Our alternative Sing Up Day video demonstrates that even though we may be separated, the power of music brings us together as one community, aligning with Harrow Hong Kong's leadership attributes of solving problems creatively and collaboratively whilst facing challenges with determination.'
In addition to their Sing Up Day Digichoir, the school also adapted to life in lockdown by holding weekly Zoom assemblies for pupils in Years 1 – 4. Their creative approach is a great example of how to keep the school community connected and singing together outside of school.
Head Teacher, Ms Ann Haydon said: 'I am immensely proud of our pupils and parents who participated in the making of this video. A huge thank you must also go to our Music Department and team who spent hours creating the video and processing it in order to get the inspiring final version we ended up seeing.'
Visit Sing Up at Home to find There's a power in the music and over 100 other songs and specially created videos and resources – all free for pupils and their families to access from home. Create your own virtual choir over Zoom or with pupils recording themselves singing along to our carefully chosen warm-ups, unison songs and songs in parts. For advice on how to run your own virtual choir, check out our recommended links.