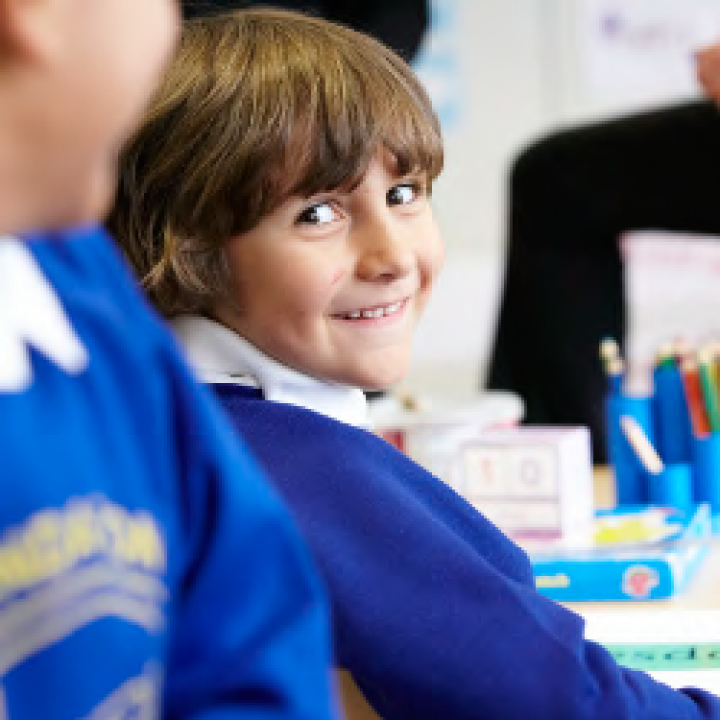 Children love songs that consolidate their learning. Try these tips and see how easy it is to use singing productively in class. Tamsin Preece explains!
This Plan originally featured in Sing Up Magazine Summer 2014. For a hard copy, please visit our shop.

5-MINUTE IDEAS
Explore the Song Bank – there's something for everyone. If you're feeling brave, play 'Song Bank Roulette' and simply use the search drop-down boxes with your class to find a list of suitable songs.
KS1: Warm up before your PE lesson with 'Jumping for joy'. It's the perfect way to get your blood pumping faster. Teach the song first and then the actions.
KS2: Try 'Punctuation jive' for toe-tapping reminders of how to use Level 4 punctuation. Learn it in unison and then have fun putting the different parts together. Remember you only have 5 minutes for this task so think of it as a short burst of musicality and see how the children respond.

15-MINUTE IDEAS
Set your class a challenge: how many songs can they think of that include words from your current topic? This also makes a great whole school challenge!

Announce in assembly that everyone needs to sing a song about colours this week and see how creative the children can be.
Early Years: How many songs can the children name about animals? Encourage them to think about songs that just mention animals too eg. 'One man went to mow'.
KS1: Can they make a list of number songs? These can be used to liven up any numeracy lesson. Try 'Number crunchers' to start you off! For SEN children, make a picture bag of favourite songs. The children may not be able to remember long lists, but they will soon associate pictures and songs, which will enable them to join in with choosing activities.
KS2: Split your class into groups. Ask them to make a list of songs containing parts of the body, then give each group a song to learn and perform to the rest of the class. Agree success criteria beforehand and encourage the children to evaluate their singing activity, making sure that there is positive feedback along with ideas on how to improve!

HALF-HOUR OR FULL LESSON IDEAS
The easiest way to link a song to your curriculum is to create it yourself! Allow the children to give you ideas, but don't be afraid to phrase them differently. Songwriting is a powerful learning tool and you'll see the satisfaction the children gain from composing their own songs.
Early Years: Choose a simple melody from the Song Bank – Chocoholics works brilliantly. Once the children are familiar with the tune, ask them to suggest their own lyrics, here's an example to get you started.
Example: There are lots of people who can help us, can you name just one? Policeman, Doctor, Teacher, Dentist, I've only just begun!
KS1: Children love singing pop music and you can easily rewrite the words or melody to link to your current topic. This one below has been written in the style of Call Me Maybe by Carly Rae Jepsen and Tavish Crowe. For copyright reasons, any song that you rewrite should be for classroom use only, unless permission is granted by the copyright owners.
Example: Hey, I'm Florence Nightingale, They think I'm crazy! But I think all these guys are pretty lazy. It isn't hard to, clean up safely, to get rid of germs and make soldiers healthy!
KS2: Create a chant using information about your topic. Split your class into groups with each group taking a repeating line. Phrase each piece of information in an interesting way to create a rhythm grid (example below). Talk to your class about pitch and discuss how the performance may begin/end.
Example:

And finally …
Don't be afraid to sing songs you haven't tried before, the echo tracks are a brilliant device to help build your singers' confidence! Check out the songwriting backing tracks on the Song Bank too – there are five different music styles to fit just about any topic.
If you regularly link singing to your curriculum you will soon see improvements in the children's learning retention and they'll have a real thirst for knowledge. What isn't there to like about that?

Tamsin Preece graduated in 2001 with a Primary Music degree. She is currently teaching Music from Foundation Stage to KS3 at Hadley Learning Community in Telford
Want more?