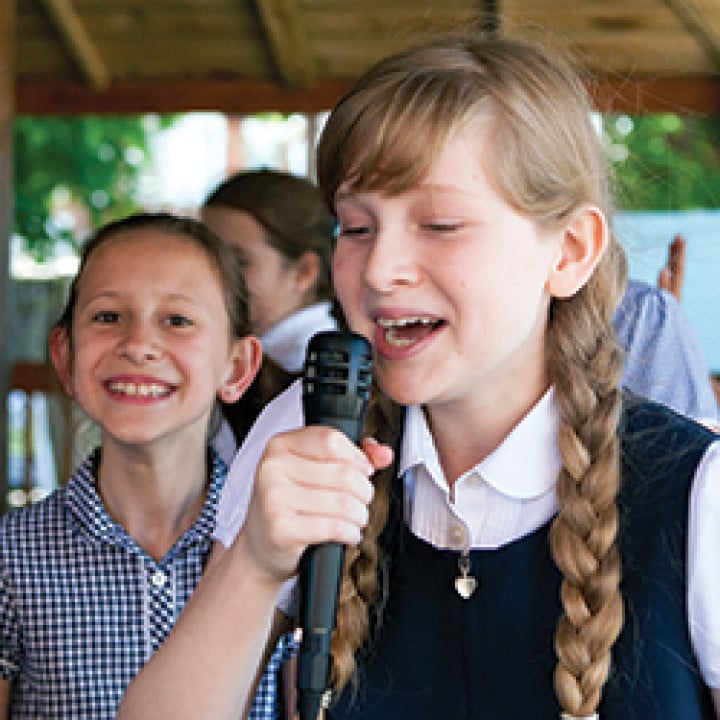 I recently had my garden landscaped and I've been thinking about what to plant. It seems plants need all sorts of things to thrive. I've tested the soil (acid), taken note of how much sunlight there is, dug in 10 bags of manure, and six bags of horticultural grit to improve the drainage. I've even thought about the height and colour of the plants and tried to imagine the garden in different seasons. It got me thinking about what conditions help singing flourish in a school, year in and year out.
Challenging attitudes to singing
At some point in your teaching career you may have had to deal with young people (or other teachers) who aren't keen to sing. Shuffling feet, eyes averted, or worse....a resounding silence! What do you do?
Elena Browne, Head of Singing for Enfield Music Service, says, 'You need to build up from something and getting staff to put away laptops and join in with assembly singing is a first step. I like to use the analogy of a football team: it takes all players to do their best to win a game.'
Don Gilthorpe, Director of Music at Ripley St Thomas CE Academy, points out that a student wouldn't get away with keeping their maths book shut in a lesson without a sanction, so why would music be any different? 'To start with, I don't really care about the quality of the participation but opting out is not an option. It is then my job to improve the singing and I'll happily work with a student at break to improve their sound. I'm more interested they leave my lesson as a better musician than whether they like it or not.'
The teacher as a role model
All the teachers I spoke to said that the attitude they project makes a huge difference to student participation. 'If you walk in to a lesson and say, "I know you're not going to like this" you suck all the energy out of it. Instead walk in and say, "Copy me" and then start some singing off, student will join in. You have to want it to happen,' says Don.
Tom Howell, Head of Music at Bellevue School, says, 'As soon as the students walk through the door I'm full of energy, enthusiastic, light hearted, silly. I show them it's okay to make mistakes – they aren't getting it wrong.'
'You shouldn't ever let children think you've got to be an amazing singer to join in with singing,' adds Hannah Dickson, Head of Music at Beckfoot Upper Heaton.
What do you sing with students?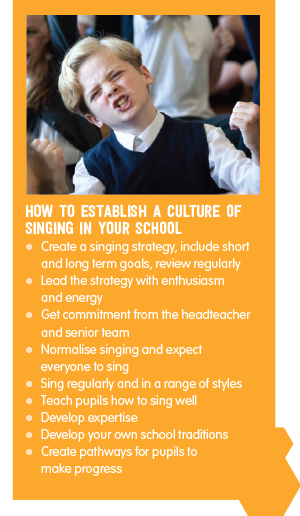 It's common to try and please students through song choices but there are mixed opinions about it. One thing the teachers agreed with is that how well you sing a song counts....A LOT! Singing something well develops confidence. If students sound good they take pride in it. If they take pride in it they begin to like it more and so it goes on. Look for songs that suit your students' vocal range and their level of experience and skill.
Elena says, 'It's important to not have preconceived ideas about whether students will like the songs you've chosen or not. Don't dumb them down; challenge them, move their goal posts.'
Helen Davies, Director of Music and Performing Arts at St. Christopher's C.E. High School, agrees, 'My students like 'serious' music like Bach, Mozart, Rachmaninov... something they can get their teeth into musically and intellectually.'
But what about students choosing songs themselves? You need to keep in mind your goals, and the skills you want students to develop. Elena says, 'The teacher is the specialist!' Don's genius idea is to create a VERY LONG shortlist of options and hone it. Finally, pick one and arrange it for the group. 'Students feel they've had a choice but you are very much in control.'
Developing a culture of singing
Whether it is the annual Christmas concert, school musical, leavers' assembly or choral concert, marking the school year with music helps establish school traditions that bind a community together and give a shape to each year. Traditions bring familiarity, security, and a sense of place.
Don explains he can spot traditions evolving. 'For example, singing assemblies are part of our culture now and pupils love them. It's a great thing seeing all of Year 10 join in singing. The sixth form request more singing assemblies because they say it's a great way to start their day. You have to start by embedding singing in the music curriculum though. Year 7 sing in all their music lessons...they learn singing skills, aural memory, notation skills – it underpins their keyboard work. Then you encourage pupils to come along to choirs – there was one when I started here, there are now seven including a staff choir. We make sure that our Christmas concert ends with a big singing finale that all 200+ performers take part in (it means parents have to stay to the end!).'
How important are senior leaders?
With conflicting priorities in running a school, having senior leaders behind you is crucial to the development of singing. They can get you access to the hall, time for a weekly singing practice, protected curriculum time, budget to pay for resources or, better still, professional development.
Don's senior leaders treat subject leaders as the experts. 'My job as director of music is to be a pain in the neck and ask for things I need, backed up with an explanation of what the impact will be if I get it,' he says.
Helen explains, 'Our school is in a poor area and SMT allow students on free school meals to have free music lessons paid for by pupil premium. These students play an instrument or sing all the way through school. They've gone on to Leeds College of Music and the Royal Northern College of Music.'
'They also let me run GCSE groups with smaller numbers than other subjects and make sure the lessons don't clash with other school priorities.'
Teacher expertise
Teachers with vocal leadership skills, the confidence to sing or play an accompanying instrument may find it easier and can establish singing faster but that doesn't mean it can't be done without this. You need to get creative. Within a school, or a department there will be many teachers with a range of skills that can be put to very good use. If you're a head look at your recruitment strategy.
Join networks, discover piano playing colleagues/parents, seek help from your music education hub, share your challenges with another colleague, join a choir and watch your choir leader. 'Use the expertise you have and know what you need to develop,' advises Elena. If you're the lone music teacher 'skill yourself up', says Don. 'I advise PGCE students to get themselves on a conducting course.'
Getting your students to sing is not just about what you do in your classroom as these teachers demonstrate – they are not doing it alone! It does take drive and unrelenting determination however to develop a strategy that provides the ecosystem for your singing to thrive.
I'm waiting for my plants to arrive and will hopefully be planting them soon. Time will tell how big they'll be next year.
We'd love to hear about the singing in your school.
Email [email protected] or tweet us @SingUpTweets