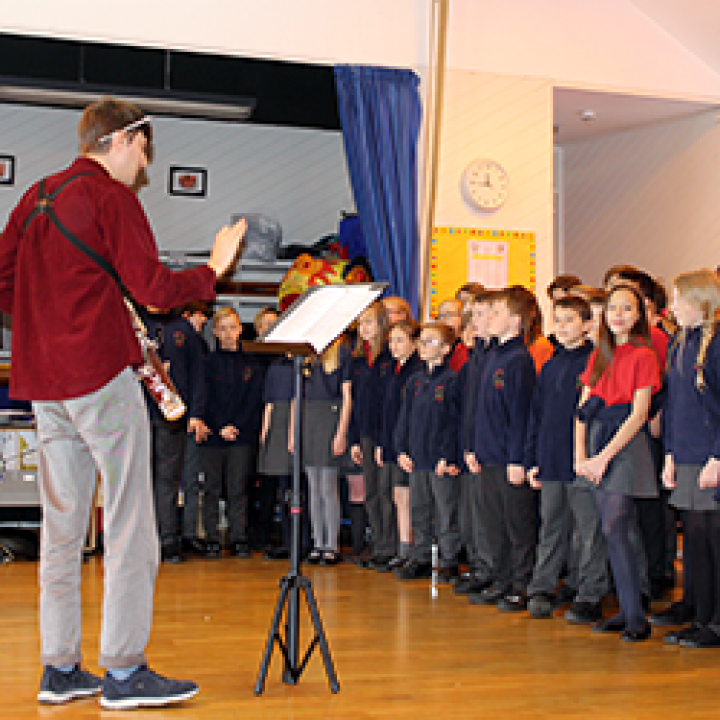 Tell us a little about yourself and Pennine Way
My name is Anna Haines and I am Head of Music at Pennine Way Junior Academy. Music (including Sing Up) is an integral part to life at Pennine Way and I am very lucky to be able to teach every child in school music once a week throughout the academic year as well as leading our two school choirs, band and our feeder Infant School choir.
What is the 'Cultural Journeys' project that your school recently embarked on?
"Cultural Journeys" was a project funded by the Awards for All scheme and supported by our local arts organisation People Express. It aimed to use the Arts to allow all the children in school to learn about and experience different cultures. Throughout the project the whole school took part in a range of activities including making a Chinese Lion head, playing djembes and marimbas, working with an international artist to create Rangoli patterns, and Bollywood dancing.
The final element of the project was based around music, with the aim to write a song incorporating the theme of different cultures working together. Initially People Express put out a commission asking for composers to apply to write the song. After a difficult process of reading all the ideas we decided that Leo Geyer's proposal fitted the brief perfectly. Leo is a talented young composer and conductor and he is also the Founder and Artistic Director of Constella OperaBallet, Cover Conductor for The Royal Ballet and Music Director for EMG Symphony Orchestra.
Tell us more about the song being written for the project
The song Harmony combines three different styles of music: West African, Classical Spanish and Latin American. Each section was written separately with different lyrics, with the aim of the three sections being sung over each other at the end of the piece. Leo also wrote instrumental and percussion parts for each section.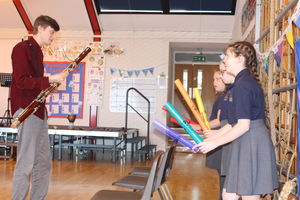 How have you (and other teachers) approached this collaborative song writing process with your pupils?
Before Leo came to visit, the year 6 children had just completed a unit written by the BBC Ten Pieces project, based on the life of Joseph Bologne, Chevalier de Saint Georges. The unit enabled the children to write their own recitative and aria based on the trials Joseph faced when he moved from the Caribbean to Paris in the late 18th century. I was able to discuss the process we had used in this unit with Leo before he started work and he followed a similar structure.
First Leo met with each of our three year six classes to introduce them to the style of music they were going to sing by playing extracts of music and discussing the distinct features of each: the Spanish section listened to the Habanera from Bizet's Carmen, the Latin group to Mambo from West Side Story and the African group to some traditional African singing. Following this he asked each class to mind map their ideas in small groups based around their theme. Once they had written down key words, Leo then asked the groups to turn their words into sentences. He then used these ideas to create the song's lyrics. In the next session Leo and the children collaboratively composed the melody for each section. Leo had a key structure for each section but allowed the children to select particular notes or decide whether the melody should move up or down. He then took all the children's ideas away to create a score.
What impact have you seen this unique experience have on your pupils?
The children loved working with Leo. They were able to draw on his own experiences and enthusiasm to create a truly unique piece of work. I know that they particularly valued having their own ideas used in the composition and recognising which lyrics they had written. It was also a well-deserved break from all their hard work and preparation before their SATs. Throughout the rehearsal process their confidence also grew tremendously to allow them to cope with singing three different parts at the same time, a tricky three-part harmony, and playing instruments too!
What was the outcome of all this hard work?
We premiered the piece to an audience of staff, pupils and parents on 11th April. The pupils had plenty to say about their experience. Here's a couple of their thoughts:
Sophie – It was really fun because Leo gave everyone an opportunity. Lots of people got to play an instrument. There were many percussion instruments – boom whackers, band played, and it was a very good opportunity for everyone. Leo was very kind and helpful; he always helped a lot when we were unsure. He was also very good at the bassoon!
Jessica – It was an amazing opportunity to work with a conductor. Leo was very calm, and he understood when we needed help. Everybody had an important part in the performance. Leo made us all feel included. He made sure we worked hard but also made sure that we felt happy and relaxed. We had a lot of fun!
Can we hear your pupils performing Harmony anywhere?
You can hear the song on our school website, here. I know that Leo has plans to enter it into the Education Section for the British Composer Awards this year. To find out more about the song or Leo's other educational work you can visit his website: www.leogeyer.co.uk.