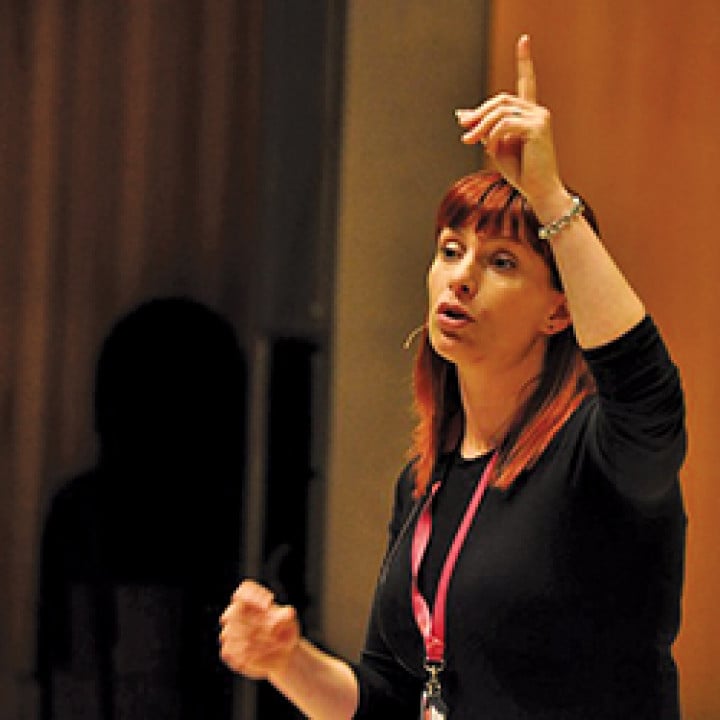 Tell us about yourself
I am a freelance musician in the North East of England, working with a variety of organisations such as Music in Hospital and Care, British Lung Foundation (Singing for Lung Health), Sunderland Music Hub, Sage Gateshead, Sing Up, Musical Futures, Concordia and the British Council (World Voice) on singing related projects and performances. I also run choirs of various genres and ages and perform with vocal quartet Mouthful.
When Sing Up first started, I was the Professional Development Resources Manager and input into the Song Bank and Magazines. I was also one of the Vocal Trainers who was lucky enough to work with teachers all over the country promoting singing in the classroom.
Can you tell us a little about your creative process? What comes first when writing music and how do you develop ideas?
I find it much easier to write a song when I've got some boundaries, for example writing science songs because you know what information needs to be in there and then it is about crafting it into a song. I don't always follow the same process – sometimes the words come first and then I put music to them and other times I have an idea of a melody and then I have to create lyrics to fit that. Whichever point I start at, though, there is always a period of give and take between melody and lyrics until they blend well together.
Who are some of your biggest songwriting inspirations?
I think Sting is a fantastic songwriter. I love his use of humour and clever vocabulary choices woven in with beautiful melodies and interesting chord progressions. Amazing.
Someone equally great, but very different is Joni Mitchell. Her melodies frequently take surprising turns and the lyrics are often very conversational and whimsical. It's very contrasting to my style.
I also love Musical Theatre, so I am inspired by the writing of, to name just a few, Stephen Schwartz, Howard Goodall, Stephen Sondheim and Leonard Bernstein.
What's your biggest priority when writing for children and young people?
My main priority is that the melody is really singable – which for me is a combination of having a comfortable range, a catchy tune and an engaging energy. My weakness is trying to fit in too many words so I have to constantly review my lyrics to see if I can simplify them or use better phrases
What's your favourite thing about writing music for younger voices?
In some ways, for me, writing music for younger voices is no different for writing for older children or adults. Lots of the processes are the same, however I think you have to make sure that every note and word is there for a reason and keep it as uncluttered as possible, refining the song to its purest form.
How is song writing and arranging different when you're creating music for your singing ensemble Mouthful?
In Mouthful, we are essentially trying to create a full band arrangement with only four voices, so each voice has to do several things; like creating harmony, texture and rhythm all at once. We often use vocal percussion and improvisation in our arrangements and make use of the full range of our voices, which is what makes it so fun and creative.
Tell us about creating your arrangement of In Flanders Fields.
I have had the pleasure of being the Musical Director of Sage Gateshead's Big Sing for the last few years. Part of the role is to curate 16 songs based around a theme for schools to learn and perform together and I often write and arrange a few songs as part of that. In 2014, we chose the theme 'Big Sing Marches for Peace' and I believed In Flanders Fields was such a great poem that I was inspired to set it to music.
When I first started setting the poem, I used a 2/4 marching time signature and got quite a long way through the writing process before deciding that it needed to be more flowing and changed it to 3/4.
I used the other voice parts to provide the harmony but also a bit of rhythmic variation so that they didn't always follow the pattern of the melody. It was also my intention to keep each voice part melodic in its own way.
What advice do you have for singers getting started with your arrangement?
Firstly, I would advise reading the poem out loud a couple of times and discussing each phrase, so you feel that you understand what it is saying and what the important words are in each sentence. When poems are set to music, it can be difficult to keep the natural spoken rhythm of the words intact so having a strong sense of how you would recite the poem helps when coming to sing it.
Also, remember that you can make the performance of any song your own by making choices about phrasing and where to breathe. Don't be afraid to stray away from what is notated – you don't have to keep to every rest and quaver if you find another way that makes the message clearer or more engaging to your audience.
What about tips for choir leaders who'll be teaching In Flanders Fields?
I would start with the melody and make sure the choir are confident with that, but that doesn't mean you can't play around with how it is sung. Experiment with solos and small groups as well as the whole choir.
I love harmony, so I'd encourage you to try at least one of the other parts as well - perhaps choosing on the basis of the voices that you have.
Where can we find more of your music?
Quite a few of my songs and arrangements are on the Sing Up Song Bank already, which you can find by searching my name. You can also check out Mouthful and my choir arrangements on www.mouthfulway.co.uk and there are plenty of videos online of me teaching warm-ups, games and pop arrangements, mainly through Musical Futures Find Your Voice courses, on YouTube.