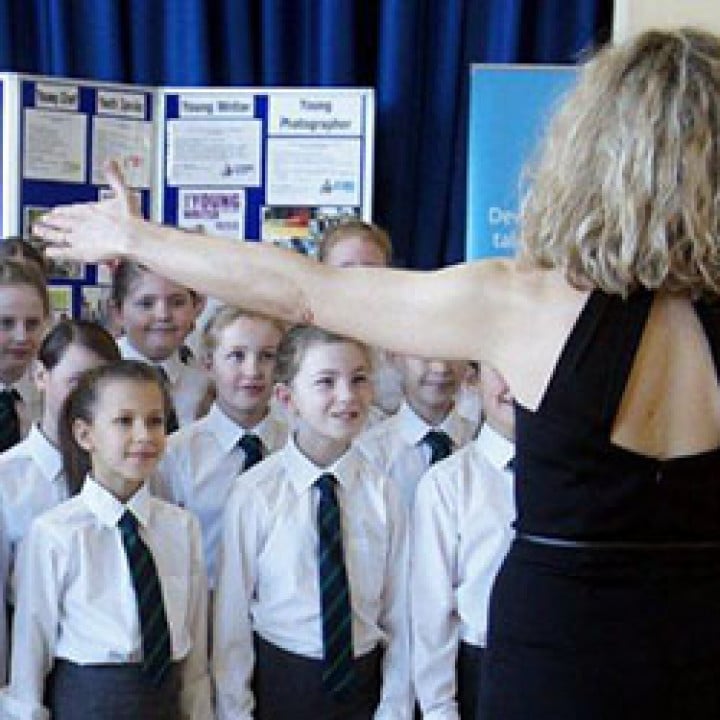 Name: Rebecca Beavis
School: Bourne Westfield Primary Academy
Position: Arts Director
How important is singing to you and your school and why?
I'm passionate about singing and its ability to engage children; it's a great way to bring people together and is a valuable learning tool.
Singing is a huge part of our school and something that we are very proud of. It gives so many children an opportunity to perform as part of a group and it takes our children out into the wider community sharing our music with others.
Over the time it took you to achieve a Sing Platinum Up Award, what affects have you seen singing have on the children at your school and their level of attainment?
Working towards the Platinum Award raised the profile of singing around the whole school, which resulted in more teachers having a go at using singing in their classrooms. It is not easy for everyone to do something outside of their comfort zone, but seeing the adults sing is key to getting the children on board, particularly the boys. Singing in our school has become just 'what we do'. The standard has improved year on year and that is down to the general enthusiasm we have towards using our voices.
What singing currently happens in your school?
We have a fantastic Pre-school music session once a week where young children and their families and child minders share quality time together singing songs. It builds on language development, memory, social skills and confidence and all whilst having a huge amount of fun.
We have two amazing choirs for children from Year 1 upwards and these children perform at many local events and competitions.
The children have designated class music lessons every week with myself, and the singing in these lessons is always linked to our wider curriculum topics so that our music supports the learning across the school.
Singing has been recognized as a teaching tool and our class teachers use it to support the learning in classrooms. I went into a Year 2 class this week and the children were learning about 'Verbs' through a song.
Aside from singing as part of the curriculum (which is fantastic!), are your staff involved in singing and music in other ways?
We are lucky enough to have our KS1 phase leader as a choir leader for the younger children, but she often helps in assemblies and has written songs for the children to perform in presentations. Two years ago, one of her songs won a large prize for our school when she wrote a song for World Book Day.
We have had a staff choir who performed with the children at a local event - this was something that everyone enjoyed. The staff were amazed at the children's ability to learn words, and sing in parts, once they had become part of a choir.
What singing does your school do with the wider community?
We are always out and about with our singers. Christmas is particularly busy with visits to many care homes with the choir. We are often asked to perform at local events like the Mayors ball and the turning on of the Christmas lights. We have even performed at a wedding and been on live radio!
Recently we have been doing some work with a local secondary school and once a fortnight we are joined at rehearsal with children from Bourne Academy. This new project is designed to inspire our younger singers whilst giving the older ones an opportunity to sing as part of a larger choir.
What are your favourite Sing Up songs?
This is a difficult question. There are so many! If I have to choose I love Living it up in Greece, Just like a Roman and Tutankhamun!. All of these I use to link with topic work. They are all great fun but really help the children to embed their knowledge and learn some extra facts.
How do you choose repertoire for concerts and events?
Most importantly the children have to enjoy it. You can only sing with passion if you feel it. It has to come from the heart. I like introducing the children to songs from different genres, and music from across the decades, it is important to me that they have a musical timeline. Every group is different and there are lots of things to consider, but enjoyment has to be a priority.
Do you have any advice for teaching good singing technique to children?
This is a big question and I could write reams on it. Children need to understand how their voices work in order to be able to use them properly. All children can sing, some just need more guidance than others.

I use lots of metaphors to make them understand key things like breath control, so we might talk about the house falling down without strong foundations – a bit like a breath keeps a note strong and in tune.

Keep positive: confidence is an essential ingredient to good singing. Sadly too many children are put off singing because they lose their confidence.

Keep relaxed: Nothing good will ever come from a tense voice.

Make sure you warm up: there are loads of great warm-ups on the Sing Up website and practice makes perfect.

Model good technique always and don't give them anything too high or too low – again I would steer people in the direction of the Sing Up Song Bank. The ranges are ideal for young voices and can be filtered for age groups.
We'd love you to be our next Teacher Spotlight – Get in touch at [email protected] and let us know what you have been up to! Check out our other Teacher Spotlights for inspiration.