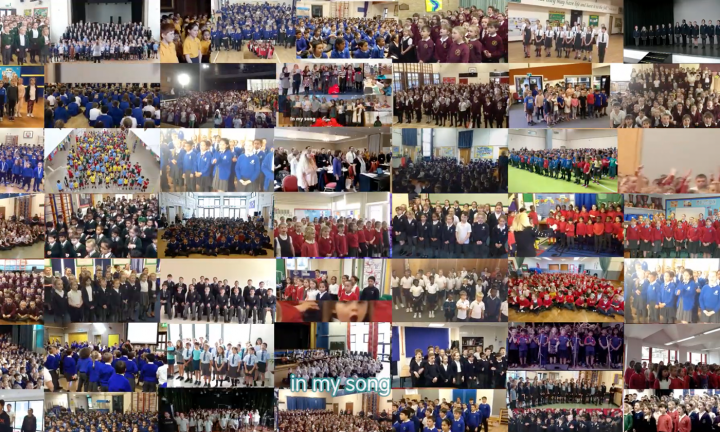 With over 200 events worldwide in 26 countries, 2020's celebration was a real record-breaker
On 11th March 2020, thousands of singers across the world came together to sing There's a power in the music by Lin Marsh for Sing Up Day. A huge thank you to everyone who took part and sent in your videos – you made sure that this was one of our best Sing Up Days yet.
We saw an incredible selection of performances this year and were super impressed by all of the hard work you put in. It was really amazing to see people finding lots of different ways of getting involved in Sing Up Day – from whole school assemblies to all day Sing-a-thon events.
Even in the extraordinary circumstances brought on by the pandemic, with some schools already having closed for lockdown, we saw teachers across the world managing to bring their pupils together from home in their own school Digichoir videos. This year's song was about the empowering nature of coming together in song, and your dedication to keeping children singing and bringing school communities together, despite being physically separated, proved that there really is a 'power in the music'.
Who took part in Sing Up Day?
5 continents
26 countries
201 events worldwide
289 schools
48045 singers
Every year, we ask those who took part in Sing Up Day to send us videos of their singers performing the Sing Up Day song so that we can create our international Digichoir. This year, we received a wonderful 103 videos from all over the world. Watch the Sing Up Day 2020 Digichoir below.
Looking forward to next year
We really hope you enjoyed Sing Up Day 2020. If you are already missing it as much as we are, you will be excited to hear that we have now set the date for next year. Sing Up Day 2021 will happen on Wednesday 30 June so make sure you get the date in your calendar and join us for another wonderful day of coming together through song. We hope to see you all there!