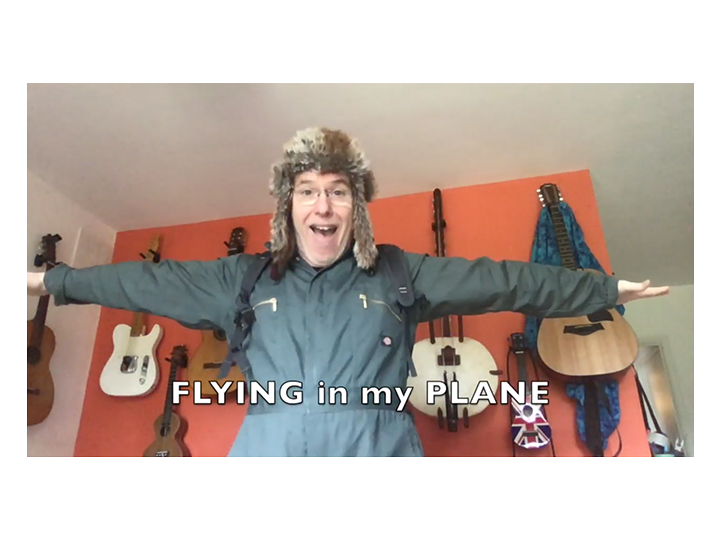 Primary music specialist Felix Glenn who teaches across two South London schools – Atwood Primary Academy and Earlsfield Primary School ­– shares his new ways of working online.
Over the lockdown, Felix Glenn has been providing music provision for his pupils through a mix of online videos and live lessons in school streamed to class whiteboards. In order to help him with this new way of working, Felix has quickly and creatively found his way around iMovie, GarageBank and Kapwing.com to create videos for pupils to watch at home and at school.
'Much of the work that I prepare is about enthusing children to sing,' Felix says. He explains that while it has had its challenges, namely that it feels a bit like teaching in a vacuum and that home learning platforms don't really offer much in the way of feedback, a number of grateful parents have been in touch saying that their children have enjoyed singing the songs.
Same but different
Over the last few months, he's learnt that despite not always being able to see or hear the children, he teaches in much the same way as usual – perfoming the song, giving pupils the thumbs up, reminding them when to breathe and acting as though he can hear them.
Felix has noted the impact that singing has had for pupils who are geographically disconnected. 'The feedback from teachers and children in those live lessons is really positive. It's a real shot in the arm for the children to be able to sing together, songs that they know and love and songs which remind them of a time when they were very much more united than they are now.'
Bringing colleagues on board
An advocate for Sing Up, Felix uses the resource to support and engage other staff members too. 'I think this is why Sing Up is so helpful for someone like me. I can set people up with an account, teach them how to access the Song Bank and straightaway most of the hard work has already been done, especially if the children know and are enthusiastic about some of the songs on Sing Up. The quality of songs on Sing Up is brilliant.'
The challenge, he thinks, is getting class teachers who aren't confident with music to sing with their pupils on a daily basis but he says, 'I think I will be able to overcome this post lockdown using the Sing Up site ­– it's an incredible resource.'
Over to you
How have you been using the Sing Up site during lockdown? Has it changed the way you're teaching? Has it given you some new ideas about things you might do in the next few months?
Please get in touch with us and let us know how you're getting on. We love to hear from you.
In the meantime, enjoy Felix's engaging take on The transport song. You can find the song for free on Sing Up at Home along with over 100 other songs and teaching videos.